All candidates meeting spotlights party hopefuls in H-L&A
Constituents of the federal riding of Hastings-Lennox & Addington (H-L&A) got their first overall glimpse of the candidates courting their votes when the elections subcommittee of the Napanee District Chamber of Commerce (NDCC) hosted a hybrid Federal Election Event on Tuesday, Sep. 7th, 2021 at the Napanee Lions Hall.
All registered candidates were invited to attend the meeting that was hosted both in-person and live by video on NDCC's Facebook page. Those candidates are James Babcock (PPC), Mike Bossio (Liberal), Matilda DeBues (NDP), Shelby Kramp-Neuman (Conservative), Jennifer Sloan (Independent), and Reg Wilson (Green).  Only DeBues failed to attend for reasons that were not stated, but sent a representative in her stead.
What follows is a breakdown of the evening's introductions and a summary of some key points. The entire presentation of the debate is available on the the NDCC Facebook page.
Opening Remarks
Due to a timing error, candidates were only given two minutes for their introductions instead of the three minutes they had been promised, leaving some of them to be cut off abruptly.
James Babcock of the PPC began the introductions by touting his love for freedom, stating "Canadians value freedom. It is right there in the national anthem: true north strong and free."
"And when governments start taking away these freedoms. I, like some of you, get a little upset," he said.
Babcock went on to discuss "freedom to make the choice for yourself" with regards to vaccines.
"These vaccine passports are just the beginning of segregation all over again. This is not okay. It doesn't make sense," he said, adding that proof of vaccination "sounds like discrimination based on health status and all of the other parties are apparently in favour of censorship segregation and discrimination. This is not okay. People's Party candidates are against vaccine passports, against mandated vaccines, against censorship and against the gun ban."
According to Babcock's official website, he is a certified electrician who "will provide a true voice in parliament for the people of Hastings – Lennox and Addington."
"A big thank you to everyone who has come out to the meet and greets in Madoc and Odessa! Its nice to be around so many like minded folks," Babcock wrote in his blog on the website on Saturday, Sept. 11, 2021.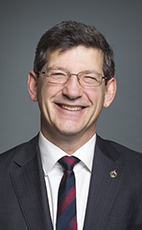 Mike Bossio of the Liberal Party, an experienced MP having served H-L&A from 2015 to 2019, began by pointing out that "in 2019, no party campaigned on how they would handle a pandemic, let alone lead us out of one. So, it is up to Canadians to vote to decide which party they want to get us out of this pandemic. We have a plan to do just that. A plan that will continue to finish the fight against COVID."  
He described Canada as "one of the most vaccinated countries in the world," thanks to his party's government, and said the Liberals are calling for mandatory vaccines for those who travel and for federal workers "to finish the fight against COVID."  
As well, Bossio said the Liberal plan will continue to make life more affordable for Canadians, saying they would continue to provide support to businesses, especially those who were "hit the hardest," and for families "the tax-free Canada Childcare Benefit has lifted over 400,000 children out of poverty," noting that families could continue to see support.
"Our 10-dollar-a-day child care planning will save families thousands, and our comprehensive housing plan will make it easier to buy a first home and ease housing prices," he said.
"Anyone who knows me knows that I've been a hardworking, straight-talking MP who got a lot of stuff done. It doesn't matter who you are, whether you're an individual, a business, a corporation, or municipality, if you have a problem and you call, I answer that call."
View Bossio's official website here.
Matilda DeBues of the NDP wrote a letter to the assembly which was read by Maureen Hutchins. She encouraged voters to "think about who is going to benefit you moving forward. Think about who is not going to let you down. An NDP government will help small and medium businesses by making sure there are patrons to actually buy goods and services."  
She explained in the letter that "the New Democratic economic recovery plan revolves around helping get people back on their feet and putting money into their pockets. We have a childcare plan that will help women get back to work. We have a PharmaCare and dental care plan to cut both these costs for Canadians." 
Debues promised this would boost rural economies, allowing "young people to stay and return to their hometowns instead of moving away and never coming back." As well, "an NDP government will also declare high-speed internet, as an essential service and work to make sure every Canadian has access to affordable and reliable internet," she said in the letter. 
According to DeBues' official website, she was born in the UK, moved to Ontario as a child, and "is currently living in Peterborough, where works at the New Canadians Centre, an agency that helps settle and welcome newcomers to Canada. She has also lived in a nearby rural community and understands the diverse needs and challenges of people in Hastings-Lennox and Addington." 
According to the New Canadian's Centre website, DeBues' interests include "films, sharks, cooking, to vexillology."
Shelby Kramp Neuman of the Conservative Party spent a good deal of her first minute thanking the chamber and the assembly. Unfortunately, this meant she was cut off early (due to the aforementioned timing issue) before she got into much detail. 
She chastised the current government, saying, "if we are going to be successful moving out of this pandemic, H-L&A needs a plan for our future, not a lot of empty promises that may or may not be kept by our current government."  
She explained that "governments must provide the necessary investments in infrastructure, get relief from taxes that stifle productivity, and cut red tape that inhibits growth. This includes investment in municipal and regional infrastructure, mental health programs and cleaner energy. It also means supporting our farmers, and our local agriculture and agri-food sector. And means creating the conditions that help businesses develop and prosper while creating an environment for new opportunities and investment. Conservatives have a plan to do just to do that. And it starts with taking specific steps to finally help rural Ontario rural Canada."
She had just begun to discuss that plan, saying, "the Conservative Party of Canada vow to connect all of Canada, including all world areas to high-speed Internet by 2025," when she was cut off by the moderator.
According to Kramp Neuman's official website, she has worked in government, public service, and the private sector, and has been a financial advisor with Sun Life for the past 12 years. She also spent "almost six years as a teacher, including time with the Hastings & Prince Edward District School Board and at Loyalist College. She has served on the Centre Hastings Municipal Council for 15 years, being re-elected three times and serving for four years as Deputy Mayor." She is also the daughter of former MP and current MPP, Darryl Kramp.
Next was Jennifer Sloan, Independent, and, unfortunately, volume issues marred her opening statements. She thanked the other candidates for being there and said she didn't have much prepared except to "tell you who I am." 
Sloan is the wife of controversial MP Derek Sloan, who was ousted by the Conservatives and then sat as an independent MP for KH-L&A. He recently gave up his incumbency to run instead for the riding of Banf-Airdrie in Alberta.
"I'm a nurse practitioner by trade," said Jennifer Sloan, "So it's very difficult for me to transition into something like this, but, for the last five years, I have definitely had the chance to talk to you guys and find out what you want. In the last couple of weeks, I've been talking to thousands of people and I'll tell you what their concerns are. They don't like that they're losing their jobs in this country. I am very strongly against lockdowns, and we need a lot of additional measures in order to take care of the COVID issue. I think that we need to listen to experts on all sides, and come up with some smart ideas for how to deal with that."  She was then cut off by the moderator.
According to her official website, Sloan was born and raised just outside of Toronto and has lived in Belleville for the past four years. "I am simply a person who grew up thinking that politicians and other people in powerful positions should take care of our citizens to the best of their abilities. Over the last few years, I have lost confidence in many of these people, and am saddened to say that I have seen more self-service than service to others. In speaking to many Canadians, they feel the same way I do. The difference is that I am in a unique position of being married to the incumbent MP in our riding and thus I have a lot more ability to do something about it," she writes on the site.
Finally, just before Reg Wilson of the Green Party made his introductions, the organizers addressed the issue with the microphones asking candidates to speak more closely into the mic.
Wilson began, "I want to say first of all I don't think this is an election like our grandfathers had, you're no longer talking about politics as we traditionally do it, because I think there's an elephant in the room is getting completely lost."
That elephant he said was the climate crisis, and "that's why I am here. I'm a 75-year-old man, I retired from a small business, I love small business."
He continued, "The International Panel on Climate Control has come out and said effectively that we are in the red alert zone for climate and this could impact humanity. And if we're going to avoid that between now and 2030, we have to reduce our carbon emissions by 60%."
"Now," he went on, "I'm 75-years-of-age. I'm not going to have a career in politics, you got to ask why am I here. I'm here because I have a whole bunch of children and grandchildren, and this election isn't about the people in this room. This election is for the future, the people that aren't here, the little kids that are going to bed right now with their babysitters, everybody under 20 who can't vote, this election is about them, and we are the responsible adults in the room, and we need to deal with that issue."
He then went on the offensive, taking the other parties to task, "Now, every party has a bit of a climate plan. I can't vote for the Conservatives, I have voted Conservative and Liberal many many times in the 55 years I've been voting, but I can no longer do either. I can't vote Conservative, because their commitment is 30% less ambitious, not 60, which is half of what we need to do." He went on to say, "The Liberals have a target that's higher than that, but sadly the Liberal track record is considerably slower, so I can't have faith in them to keep their promise. The Green Party is committed to 60%, and my hope before this evening is out is to tell you how we're going to get there."
View Wilson's official website here.
What steps will your party take to make sure small businesses can bounce back, thrive and flourish?
Bossio pointed to the Liberal record, saying, "Our government has been there before the pandemic, for businesses, has been there during the pandemic, and we will be there after the pandemic is over. As an MP, I will continue to fight on behalf of the businesses in this riding, I'll continue to bring economic development dollars to our community." 
He detailed his own record of supporting small businesses and bringing funding to the riding and how the Liberals brought about 1.115 billion to Southern Ontario through the CFDC program, and "that led to an awful lot of investments in this riding that helped businesses to grow, to thrive, to prosper and to hire more employees."
Kramp-Neuman said, "We need to invest in targeted stimulus measures such as infrastructure, ASAP in order to create jobs. I'm proud to suggest that the Conservative Party is launching the Main Street business loan to provide loans up to $200,000."
She said that conservatives think the current "$60,000 Canadian emergency business account loan is too small for thousands of small and medium-sized businesses. Canada's conservatives will immediately offer a loan on similar terms, but offering up to four months of pre-pandemic revenue, up to a maximum of $200,000. We will forgive up to 25%, depending on a company's revenue loss."
Sloan said that lockdowns must be avoided in future. She said that talking with small business owners, "they would not survive another one They are already operating on a skeleton staff, they can't retain employees."
She went on to say that as an independent, "I can't promise that we will give you millions of dollars to businesses, but what I will fight is for their right to stay open to fight for themselves, to work, and they want to work."
Wilson said that investing in the green industry is key, noting that "the Green Party is committed to maintaining the wage subsidy and rental subsidy programs that are in place, they have committed to establishing a fund of money for small businesses and viable businesses that want to invest in green energy and green technology."  
He urged that, in order for Canada to export green technology, the intellectual property must remain in the country, and nd that we should always be looking forward to what can be done in the future and not rely on the way things have always been done in the past.
Babcock said, "So, I'm gonna echo Jennifer a little bit here. No more lockdowns. Small business, they've been hurt the most by lockdowns, I know there's been wage subsidies and all sorts of other things in place, but when you take away the ability to actually stay open and turn a profit, it's not good."   
He also said, "as a party, we plan on stopping [big] corporate handouts so there's a fair playing field across the board."
How would you continue to protect the rights of women's reproductive freedom and marriage equality for the LGBTQ community?
Jenifer Sloan didn't explain how she would work to protect the rights of women's reproductive freedom, instead saying, "I'll be upfront with my views. I'm pro-life and I'm not ashamed of that: I value life inside the womb and outside of the womb. I will do whatever I can to preserve life." 
And, "In terms of the LGBT community; as a nurse practitioner, I always treated everyone with the utmost respect. I do not discriminate. If somebody came into my office and they were human. I treated them. And when I walk around the community. I don't see anything other than a person that lives here that has concerns and wants to be happy. And that's all I care about."
Shelby Kramp-Neuman said, "If elected to be your Member of Parliament, I will represent everyone in my riding. Regardless of ethnicity, religion, gender, or sexual orientation. When it comes to abortion, I feel that politicians should not get involved in personal decisions. Just have that choice, do what they feel is best for their beliefs and their particular circumstances. I will stand up for their choice."
Reg Wilson said the Green party "is very, very focused on the rights of gays, lesbians, transexuals today. And I personally have no problem with that, I think those people are God's creation, just like all of us. And I think they deserve our respect as Canadian citizens. As far as the right to abortion, I think women are pretty smart and pretty responsible and will make the appropriate decision for them and for their unborn child. I strongly support the right to abortion."
Babcock said that his positions came back to freedom, "So, as far as pro-life pro-choice debate, I guess I'm on the pro-choice side of things. There are some reasons that are pretty valid for getting an abortion. And there's some reasons that people would want to keep their child, so you should have the choice to do what you feel is best."
"As far as the rights for gay, lesbian, trans, and all that stuff," he said, "We're all Canadians. So, we should have the same rights across the board. No one should be discriminated against… So to me, it's just nonsense. Treat others how you would like to be treated. So, just be good, be nice to people. It's not that hard."
Bossio finished off the topic with his thoughts, "I definitely believe in a woman's right to chose to and also, of course, I firmly believe and stand behind LGBTQ rights."
"It's about basic human rights," he explained, describing various initiatives of the current government to support women, families and LGTBQ2+.
"At the end of the day, diversity is what makes us a great country. It's what's created such an amazing dynamic that exists here that doesn't exist anywhere else in the world. We've got this massive country with a tiny little population, and very early on we figured out that we need to work together if we're going to survive as a country. Nothing has changed. Today we are still a massive country with a tiny little population and we need to make sure that every member of that population has an equal right to be able to actively participate in our society."
To find out more about the candidates' positions on rural internet access, affordable housing, jobs creation, the food system and local agriculture, CERB and the qualifications and experience they would bring to the job of MP for H-L&A, the full video of the event can be found on the Chamber of Commerce Facebook page.