Windmills Cafe is situated just down from the bustling corner of Princess and Montreal, which is prime real estate for attracting downtown event goers, beleaguered shoppers, hungry tourists as well as locals in the know. They have very decent breakfast, lunch and dinner menus, as well as a great wine list, which is likely why there always seems to be a good crowd of diners inside.  In addition to what they've got going on in the main restaurant, Windmills also offers catering for events ranging from weddings to private holiday functions.  Windmills has been around since 1984, which practically makes it a downtown institution.  Recently we had a chance to sit down for our first brunch of 2011, and needless to say, Windmills Cafe did not disappoint.

Did I mention Windmills' wine, cocktail and champagne selection, which you'll find on the back of their brunch menu?  While we debated whether or not to order mimosas, we ended up with a pair of their Bloody Caesars ($6.75 each).  They contained a generous portion of alcohol, although I suppose that depends on your definition of generous.  Being fans of all things hot and spicy, I found my Caesar a tad on weak side, which might be welcoming for those who aren't crazy for Tabasco.  Next time around, we'll have to remember to ask the bar tender to fill our morning after cures with molten lava.

This is the ham, Brie and roasted red pepper frittata, which is topped with roasted red onion ($10.75). For those who may be unfamiliar with frittatas, think of them as fancy, open-face omelettes.  As you can see it comes with a side of homefries, and my dining companion opted a side of bacon ($2.50), because there is never such a thing as too much bacon.  This dish was very nice, as the variety of ingredients made for lot's of different taste combinations.  Now generally I wouldn't order Brie in an omelette, but I found that its creaminess really complimented the eggs, and made for heavenly bites when paired with the sweetness of the roasted peppers and onions respectively.  If this frittata option doesn't suit your taste buds, perhaps you'll be interested in the other varieties:
sundried tomato and goat cheese
spinach, mushrooms, grape tomatoes and Mozzarella cheese
chorizo sausage, Monterey Jack cheese & tomato salsa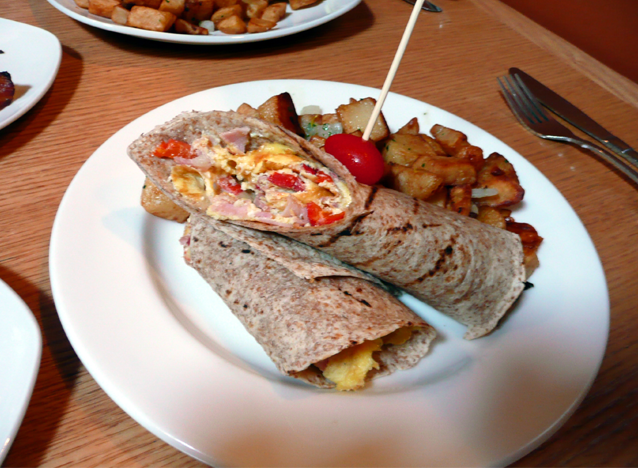 Feast your eyes on the Western Omelette in a wrap ($8.95), which is packed with heaping amounts of Monterey Jack cheese, roasted red peppers and ham.  Similar to the fritatta this menu item comes with a side of homefries, or house salad if you`re up for torturing yourself on the weekend.  I opted for a side of sausage ($2.50), which were honestly some of the best seasoned links I`ve enjoying in a long while.  Now, just because McDonald`s sells a breakfast burrito doesn`t mean you won`t thoroughly enjoy Windmills take on this affordable and reasonably healthy option.  My wrap was nice and firm, which is to say that it didn`t fall apart when I started to eat it.  That said, since they briefly grilled the tortilla, I found it to be slightly tougher than I would have liked.  Even so, I would easily order this again, perhaps with special request of some salsa on the side.
All-in-all you will come away from a brunch at Windmills feeling satisfied, and if you steer clear from ordering alcohol with your brunch, the bill is very comparable to what you`d expect in Kingston`s most affordable breakfast nooks.  While some may get frustrated having to wait for tables or their order, remember this is far from a greasy spoon.  It`s a popular place, and that`s a good thing.  Take the extra time to enjoy the amazing local art they have displayed all around the restaurant.