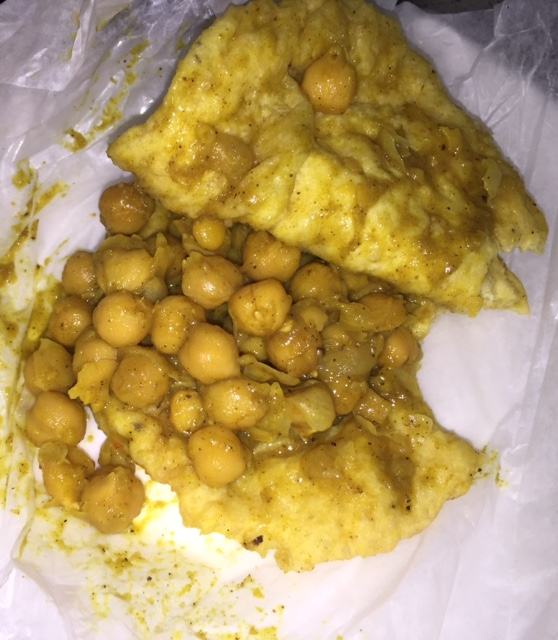 As much as we enjoy Kingston's bounty of higher-end restaurants, often when the mood to dine out is upon us (which is quite often, frankly), we turn to a hole-in-the-wall hidden treasure. We did so last Friday, having heard that Sally's Roti Shop (on Wellingston Street right beside the Iron Duke) was good. We heard wrong: it's great!
Advertising "authentic Carribean cuisine", Sally's is family-owned and offers Kingstonians another option for the palate.
We started with what the menu calls "Doubles"? curried chickpeas served between two crispy dough patties, topped with your choice of mild or spicy chutney. They were made fresh-to-order and reminded us how great chickpeas can be when not from a can. The spice was flavourful, not hot, but the available chutney packs heat and the mild is tasty, too. The Doubles are only $1.50—you have to try them!
Most of the menu is divided into curry meals and the namesake, roti (wraps). Roti is a type of flatbread and Sally's is homemade, light and a bit flaky. The wraps are mild, definitely letting the filling steal the show. Roti start at only $5 for vegetarian options, with meat-based ones including halal chicken, goat, lamb and shrimp. All wraps also include curry potatoes.
The amazing world of curry keeps expanding for us, as we both went that route. All curry meals come with potatoes, rice and peas. These start at only $6.00, but we chose chicken at $7.50 and lamb at $10.00. Service was quick, but not so quick as to indicate that everything was pre-made. Honestly, we weren't expecting much, based on the prices, but were pleasantly surprised with the plates came, as they were very substantial. Additional, the flavour was not to be outdone. Sally's potatoes have a semi-thick sauce that is a wonderful complement for the meat. The only thing we didn't love about the meal was that the potatoes could have been hotter(they were served lukewarm). Both the chicken and lamb were pleasing portions of tender juiciness. As much as we love Cambodian and Thai food, the rice can be a let-down, as it's basically a vector for the (admittedly amazing) sauce. However, it seems that Caribbean rice is more nuanced as it was savory and not too salty.
Part of the "authentic" promise of Sally's seems to come from the drink menu. It features typical cola but also banana "kola", peardrax, ginger beer coconut water and our choice, lemon lime bitters, which was a refreshing change from traditional pop. At $1.50-$2.00, prices are certainly not prohibitive!
We left fully-satisfied, happy to have tried something new that is budget-friendly, fresh and filling (enough so that we had leftovers). If you're in the mood for Caribbean cuisine, check out Sally's!
Like them on Facebook to see their menu.