While ringing in the New Year at Casa, our server casually mentioned that her plans for the evening involved a party/sneak preview of a new bar that had would be opening soon in downtown Kingston. Weeks later we finally noticed signs of life outside of 368 King Street East, the home of Red House.  This new watering hole was founded by three brothers, who you'll likely recognize as they've all got a long history working the local bar scene. Drawing on their tastes and experiences elsewhere, Red House provides a cozy and appealing atmosphere, which offers selections from local breweries and menu items that highlight local ingredients. Their one-page menu, which I shall re-visit as it is set to change from season to season, reinforces their commitment to quality menu offerings:
All of us at Red House believe in locally grown produce, humanely raised meats and artisanal food producers. We believe our local food tastes better and we believe in supporting the community we live in.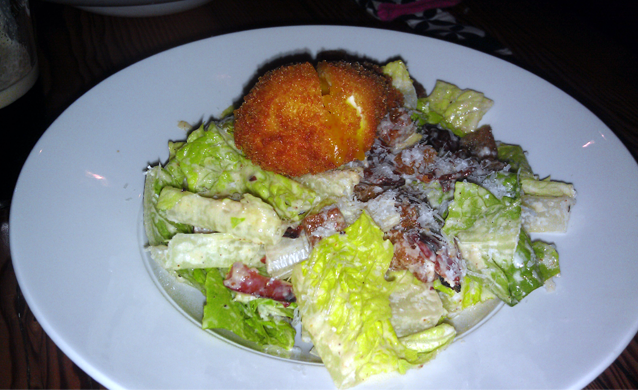 Normally I would steer clear of salads at a bar, but I got a little adventurous and tried the Caesar Salad ($8), which includes pancetta, fresh parmesan, crispy egg, and croutons. As you can see in the photo, the crispy egg is exactly what it sounds like, and somehow it exceeded my wild expectations. Seriously, whomever thought that this would be a good addition to the traditional Caesar Salad is a genius. That said, I initially found the dressing to be a touch overpowering with a slightly fishy aftertaste, although that subsided as I got used to the flavour. The croutons are also worth mentioning, as they were instantly melt-in-you-mouth amazing, but their buttery flavour was a bit too much for me over the long haul. Of course if salad isn't your idea of a great starter, Red House also offers homemade beer nuts, smoked almonds, roasted olives, crispy buttermilk chicken bites and the list goes on.

The crispy polenta with parmesan ($4) was cooked perfectly, and it had a nice seasoning that didn't overwhelm and wasn't greasy.  The mix of flavours was lovely.  The creamy, comforting and light flavour of the polenta was contrasted nicely with the bitterness of the arugula and the saltiness of the parmesan and the olives.  A great dish that could have easily stood on its own without the starter – very filling! Other mains that they had available when we visited included roasted chicken, local trout, cottechino sausage, and a handful of different sandwiches: pulled pork, roasted squash, fried chicken and of course, the chicken club.

There is little room on the burger battlefield in Kingston, as the likes of Harper's, The Works and Five Guys have really cornered bulk of the business. Needless to say, there are many other non-fast food joints in Kingston that offer burgers, some good and some not so much. After trying the Red House Burger with crispy onions, cheddar, tomato relish, and a side of fries ($13.50), I can honestly say that it belongs near the top of the local list, and that's coming from a guy who's not a huge fan of tomato relish. The burger itself was small in comparison to what you'd get at the big three mentioned above, but again, it was big on taste. It was cooked to perfection, or at least to my definition of the word, bordering on medium rare and not at all greasy. The fries were also nice, but I can't say that I would place them at the top of the local list. In any case, I would easily recommend their burger over many others.
I've said a great deal about the food offered by Red House, but equally as important is the atmosphere. As soon as you enter the establishment you are met with a huge open space that includes booths and the bar area on the perimeter, as well as larger open tables near the centre. The amount of care that's gone into creating a perfect space (hit play below) is event in every detail: the exposed limestone, the wooden beams, the absence of television and the hodgepodge of black chairs in the back. All said, I felt as though I was in a cozy lodge that was hours away from civilization. After only one visit I can honestly say that Red House is a prime destination, and I am confident that it's location, uniqueness and focus on locally sourced, seasonal ingredients will earn it a solid customer-base in the years to come.