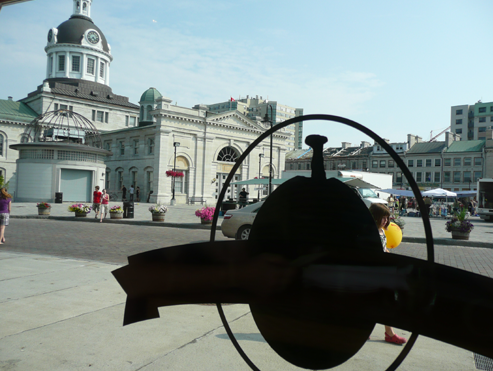 I can't recall the exact date, but at least two years ago, a fire destroyed the Greek Village restaurant across the street from Market Square. This prime locale sat vacant with boarded up windows and derelict signage until a glimmer of life was spotted earlier this past Spring. A leased real estate sign along with a banner indicated that Olivea, another restaurant by Stev George, was coming to the limestone city. I considered this a very exciting prospect, as Market Square has undergone a positive transformation since the Greek Village days, and it's commercial surroundings should reflect positivity rather than stagnation and misfortune. New business in both the charred Greek Village or abandoned TD Bank will liven up the entire area.
When I saw the "coming soon" banner in Olivea's window, I took note of their website and went home to find out more. I was presented with their Italian and Mediterranean inspired menu, which the owners were trying to narrow down with what seemed to be an online poll. I spent nearly 10 minutes deliberating menu options and clicking on buttons to indicate which dishes I would like to see Olivea serve upon opening. However, when I came to the end of their long list of appetizers, entrees and desserts, I was surprised to discover that they required people to submit their selections via Email. This was rather disheartening as the appearance of the form on their web page indicated that I could submit my preferences electronically. And so, rather than type all of my selections into an email, I closed my web browser…and waited.
While out and about taking in Buskers 2008, we decided to have an early dinner at Olivea. Keeping in mind that the restaurant opened just over a week ago, we were prepared to deal with an establishment that might still be working out some kinks. The inside is gorgeous, with brick and limestone walls, an impressive bar, with large windows that offer grand views of Springer Market Square and City Hall. We were whisked away to a window table, and quickly presented with the menu and drink list. Our server was decked out in what appeared to be Buskers-style attire, with a funny looking tie and hilarious socks. Why, I'll never know. Since we could not decide what to have, he offered some advice and took our order.
On that note, the menu seemed to be nicely focused in comparison to that which I originally saw online back in the Spring. That said, the difficulty I had ordering stemmed from the fact that the ingredients, and dishes are very "Italian", which I am clearly not accustomed to. Sure we have all had gnocchi before, but many of us have never heard of garganelli, tagliatelle or orecchiette. All of which are on the menu, while I opted for the garganelli with light tomato cream and shrimp.
Our drinks came quickly, but our salads were at least 15-20 minutes before they arrived at our table. This was surprising, given the fact that there were only 3 other parties seating inside Olivea, and that this was pre-dinner time. We counted 3 people working in the kitchen, and 6 wait staff who seemed to be trying to find busy work, but were often left standing around. Salad plates were taken along with used cutlery, and our pasta was quick to arrive with our own personal bowl of Parmesan cheese. My date ate nearly all of her meal, while I simply could not find the room, and to my dismay, I was not offered the opportunity to take my leftovers home. Both meals were very well presented and tasty enough, however I honestly preferred the pasta at Spagetti is Ready.
The real shock came when the bill arrived. Not to disclose the amount, but it was rather steep considering the mediocre service, and average food. I would expect to pay such a price for a meal at le Chien Noir, and would gladly do so because the food and service is amazing. I suppose the high price is what it costs for them to do business, and for us to enjoy a meal in the shadow of City Hall. All things considered, Olivea is still learning their way, and with time they will fine tune their operations. I will venture back in the next year or so, to see how much progress they've made.