In May, Mia Gelato opened just a few doors down from White Mountain. Prior to this, it was a shop owned by a Lebanese family who sold ice cream and shawarma. An interesting combination. I really enjoyed the shawarmas at 1am after going out at Joy.
What I like most about Mia Gelato is that it is a stark contrast to the philosophy used at White Mountain. White Mountain is a bit of a legend in Kingston and I often hear of ex-Kingsonites craving pizza at Woodenheads and a cone from White Mountain. Don't get me wrong, I like the ice cream at White Mountain. But I've never really been to an ice cream shop where you don't get to look at the ice cream. They have 2 lists on the wall, one with chocolate based ice cream and the other with a vanilla base. The names don't really describe what is in the cone (White Knight, Mountain Mix etc etc). The servers happily offer samples but how am I supposed to choose what ice cream I want if I don't see it? And there is always a big lineup so you feel a lot of pressure to try one bite and buy that same flavour. This model of ice cream selling doesn't work for me because I think ice cream is a really visual experience as much as it is a flavourful one.
Mia Gelato does the opposite. They serve gelato as well as sorbet but there model is to show you everything they have. The gelato speaks for itself.

This is just one cooler of the gelato that they offer. The servers are really attentive and let you sample many flavours. One touch that I like is that they offer their samples in metal washable spoons so you don't waste the plastic ones.

This is the small (Piccolo). The strawberries and cream is fantastic (foreground). Creamy, smooth, cold, and not too sweet. The raspberry sorbet (background) was tart and refreshing.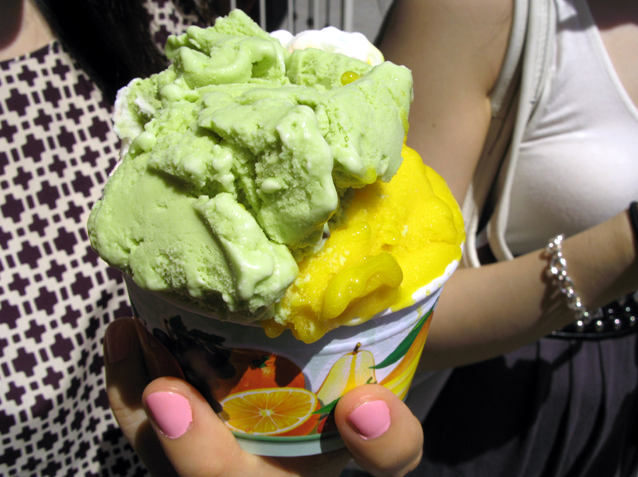 This is the medium size with mango sorbet and pistachio gelato. The mango was a bit sweet but had that wonderful Cebu dried mango flavour. The pistachio was rich and pretty refreshing.
There are some misses though. Some of the sorbet (watermelon in particular) was basically pure ice when I got it. As they have just recently opened, I anticipate that the kinks will be sorted out soon. I love how they take chances on flavours too. They made a Jalapeno Cherry Chocolate gelato. I thought it was interesting but not particularly tasty. They stopped making this flavour because of poor demand. But they respond to the public! I have high hopes for this place.