Born and raised in the suburbs of Toronto, my knowledge of authentic Mexican food is sadly limited. Most of my experiences have been Tex-Mex substitutes, so when Mexico Lindo y Que Rico started serving authentic Mexican food right around the corner from me, I knew it was time to widen my repertoire! With this intent, I rounded up a bunch of friends to join in, so that we could order as many dishes as possible!
The name Mexico Lindo y Que Rico means "Mexico is beautiful, and delicious!" – this restaurant is both of those things! Owned and run by the Lopez family, I was touched to see how dedicated they were about every component of our meals: speed, accuracy, taste, and comfort. They've livened up the already gorgeous space that once held my beloved Crack'd Pot, filling it with colour on the walls and on our plates!
While the Americanized Tex-Mex food that I'm accustomed to tends to be pretty salsa-heavy, Mexico Lindo focuses on a prized 50-ingredient mole recipe, as well as a guacamole that's full of kick. I was surprised that the guac was more viscous than I'd ever seen it, usually consuming it in a more spreadable form. As soon as we started eating, though, I realized that it was genius: pourable guacamole! The joy of this innovation was contagious – I may have spotted a couple of friends shamelessly pocketing their leftover cups of guacamole for home consumption!
I know that many customers eagerly await Saturdays, when the Lopez family cooks up tamales, the ultimate in Mexican comfort food. Steamed and served in a cornhusk, their tamales are soft and flavourful, selling out faster than they can be prepared. For me, though, the tamales don't compare to the remarkably satisfying crunch of Mexico Lindo's fresh corn tortillas. Although usually a softie in the eternal question of "hard or soft shell?", from the moment I heard a friend bite into a Mexico Lindo tostada, I knew I had to seek out that crunch for myself.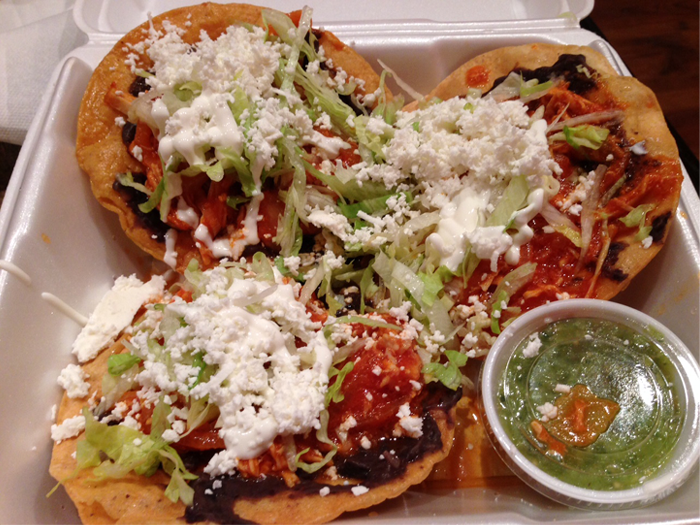 For me, the best crunch factor came from the Tacos de Pollo, ground chicken rolled up into hard taco shells. That's right, not folded, but rolled into fun little tubes! Eating them reminded me of being a kid and munching away at those Russian cigar wafers, and at $9.25 for 5, they're the ultimate steal. What was more surprising, however, was the crunch in the quesadillas. "Crunchy quesadillas," you say? "I thought they're soft and pressed within an inch of their lives!" Not these ones! Mexico Lindo's quesadillas are filled, then fried, and then topped with even more fixings, creating a hot, messy, but above all fresh pocket of goodness.
Mexico Lindo is a great place to pick up supper on a cold winter's night because the flavours will remind you of time that Kingston wasn't covered in snow, slush, and ice. The Tacos al Pastor, pork tacos, are filled with cilantro and pineapple, providing a burst of flavor that is the best prescription for getting through the winter doldrums! The vibrancy of this dish aside, however, the picky eater in me was relieved that Mexico Lindo also features surprisingly gentle flavours. This includes the Quesadillas de Papa, potato quesadillas that offer a super mild but tasty vegetarian alternative to the pollo (chicken) and carne (beef) options. Many of the dishes are topped with iceberg lettuce, sour cream, and a cheese that is light in flavor but heavy in abundance! This kind of gooey messiness is perfect for kids, kids and heart, and those who want to be one with their food instead of just ingesting it.
All in all, Mexico Lindo is a restaurant to watch out for. They're still in the early stages of development, which is a double-edged sword. It means that on one hand, you need to remember to bring cash until they install a debit machine, but it also means that you'll be privy to exciting off-menu improvisations (such as an outstanding potato soup in tomato broth, courtesy of Mrs. Lopez) as they get a better sense of how much they need to supply for the ever-increasing demand. Both times I've eaten in, the phone was ringing off the hook, so the best tricks are to order early and be patient: the food is made with love, and it is so worth the wait.
A closing word to the wise: before you leave, do yourself a favour and order some churros. The Mexican equivalent of the donut, these crispy cinnamon-sugar-covered fried sticks are the ultimate indulgence. They're the perfect end to the perfect crunch-fest, one that you'll think about long after you've finished your meal. I look forward to many happy returns to Mexico Lindo y Que Rico, but I'm especially fantasizing about those hot summer afternoons when I can grab some tacos, mosey over to Skeleton Park, and crunch away under the hot summer sun.