Take over thirty arcade games, taps pouring a mix of craft and big brand beer, and you've got Kingston's newest hot spot for a fun night (or afternoon) out on the town. Barcadia opened their doors just over two months ago, and has since become a popular destination for those seeking a side of competitive or casual gaming along with their perfectly chilled pint. Located in the former home of Room Nine, or MyBar for those who have been in the city long enough to remember, Barcadia is hard to miss thanks to the giant glowing sign that calls you in from the street for just one game.
Press start to enter and you'll be instantly greeted by the impressive main bar to your left, which sports nearly a dozen handles tempting you to wet your whistle before scouting out the games on tap. At least one of the taps is routinely adorned with an NES zapper, which denotes that it dispenses Coors Light. On more than one occasion, the aroma of free, freshly popped popcorn has hit as soon as I walk through the doors, as well as the sight of popular 80s movies projected on the wall.  Suffice it to say, all of these special nostalgic touches reinforce Barcadia's homey atmosphere, and we've barely made it two feet inside.
Over thirty glowing cabinets line both sides of the space, stretching towards the secondary bar at the rear, which I've yet to see open. You'll also spot a few booths on the right hand side, which offer groups the opportunity to sit and throw down playing (for free) popular titles on classic, vintage consoles such as Sega Genesis, Super Nintendo, and even Atari. More on those consoles in a bit.  Even on the busiest of nights, when multiple parties are crowded around the most in-demand games, the long, narrow room doesn't feel overly crammed.  It's almost as though this space was meant to be an arcade.
Quarters are the going currency at Barcadia, so you don't have to worry about buying tokens just to play a game or two. Unfortunately, the cash machine has let me down on more than one occasion, and unlike the arcades of my youthful days, Barcadia does not employ an attendant to walk the aisles and change cash for quarters. And so, when the cash machine refuses to cooperate, you'll have to double back to the bar and get in line just to get your game on.
Pro tip: bring your own quarters and avoid the rage-inducing cash machine.
Cheat code: ask for a red cup to put your quarters in as it saves you having to furiously dig in your pocket during those ominous "continue now" countdown screens.
Many of the vintage arcade cabinets at Barcadia are cleverly separated by planks of wood, which have been branded with the words "beer goes here".  This convenient setup allows you to set your beverage down, and keep an eye on it in between killing zombies, going for the checkered flag, or laying the smack down on the Big Bossman.  Speaking of the games, Barcadia has stocked a solid number of shooters, fighting, racing, head-to-head and co-op options to keep you mashing buttons in search of the next checkpoint.  Their website is the best place to check for the games currently in rotation, however it has let me down on more than one occasion.  In that regard, just because the site lists a certain game (ahem… MK4), doesn't necessarily mean that it will be up and running when you pay them a visit.  It could be down for maintenance, or worse, able to accept quarters, but otherwise unresponsive.  Thankfully, the folks behind the bar are willing to give you a refund on any misfired quarters.  And hey, such things are to be expected when we're talking about equipment that has been around since the 80s.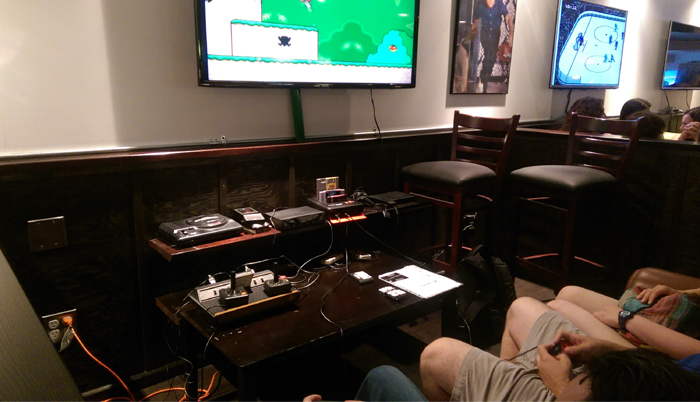 Barcadia has a total of three semi-private booths kitted out with retro consoles, which will literally transport you back to the living room of your childhood.  From Mouse Trap on the Atari, to Super Mario Brothers 3 on the SNES and Sonic the Hedgehog on Sega, these comfy gaming nests have all the games you know and love – just don't expect to be as good as you used to be.  Unfortunately, my two experiences with these booths haven't been positive as the consoles have either not worked or malfunctioned mid-game.  No amount of blowing into the cartridges or hitting the reset button could bring these devices to life. The staff are seemingly just as powerless when it comes to a quick fix.  Although I have spotted others putting on impressive clinics inside the booths, these consoles have consistently let me down.
Having returned to Barcadia on multiple occasions since their grand opening, I've seen the place make some really solid adjustments to improve the experience for patrons.  I would love to see them tinker with what's on tap by ditching the big name beers in favour of local craft and microbrew varieties. Additionally, serious gamers would certainly appreciate it if Barcadia could find a way list which games are not working or otherwise down for the count (eg on their site, or Facebook page), so to manage expectations and minimize disappointment. In spite of the few things I want them to improve upon, if you love beer and have an affinity for retro video games, you'll feel right at home at Barcadia.