Boys and Girls Club opens east end location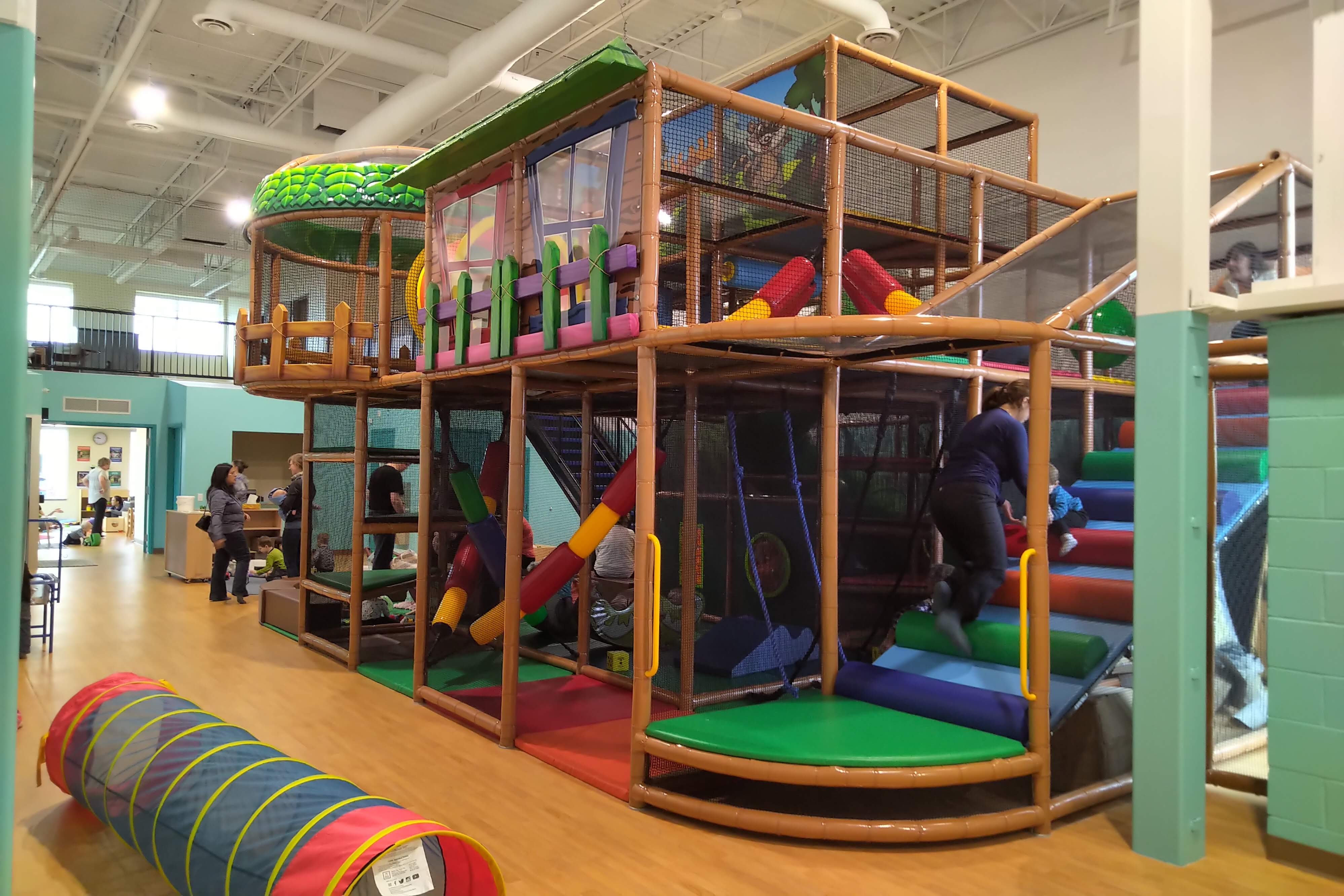 You can't find your way to the Boys and Girls Club new east-end location on Google maps (yet).
According to Morgan Davis, manager of social enterprise and sales for the Boys and Girls Club of Kingston and Area (BGCK), they're still waiting for the postcard from Google to confirm it's been added to the map.
There are no signs yet along Innovation Drive, at the entrance of their new plaza. or even on the front of the building to tell parents where it is.
But signs or no signs, families are finding their way to the east end's new, much-needed facility. The custom-built, modern indoor play space, offering free and fee-based programming for kids 0-12, has been busy almost every day since it opened on Monday, Apr. 1, 2019.
"There's always someone here," said Karen Norman, a program facilitator at the new location. "Some days are very busy and some days less so, but it's never empty."
Upon entry, families are greeted by the sight of a giant indoor climber, complete with padded ramps and obstacles, ropes, netting, tubes and a large slide. On the floor surrounding the climber are toys and play space for babies, toddlers and young children.
In a second room, bright with natural light, are kids' crafting tables, easels with paint, doll houses, play kitchens, and more.
There is no segregated seating area for parents, something Norman said was an intentional aspect of the space's design.
"There are lots of chairs and places an adult can sit, in and amongst the activities," Norman said, noting that the goal is to encourage parents to interact with their kids and take part in the play. The space is comfortable enough for adults and children alike, she says, and only two people requesting adult seating in the month since opening.
"One was a senior gentleman with a cane," Norman said. "We got him a chair."
Custom-Built from the ground up
The opportunity to design and build a space of their own was one of the location's draws, Davis said.
"When we got our hands on this space, it was a dirt floor and we built everything custom from the ground up," he said.
Good proximity to local schools, ample parking, and affordability were also deciding factors.
The Boys and Girls Club has two other Kingston locations, one on Bath Road and the other on Bagot Street, both well-known to parents across the city.
"We would see military families driving all the way to the west end facility. [The east end] is a huge population base that historically has been under-serviced," Davis said.
"The running joke around here is, as soon as [the new location] opened, we realized it wasn't going to be big enough!"
However, the new facility is just the first step in the BGCK's plans to expand more fully across the causeway, Davis said. Before- and after-school care, and collaboration with the City of Kingston on a new east-end community centre are both significant next steps.
Donations sponsored the build.
A contribution from Pittsburgh Community Benefit Fund, which sponsors programs development in the east end, was instrumental in speeding the facility's development along, Davis said.
"They've given us some support to help us operate – initial cash to get things moving, get shovels in the ground, as well as ongoing funds for costs. That's amazing," Davis said. "We're very lucky and very humbled by that."
"All of our programming is made possible through partnerships with large scale strategic partners like the United Way, but also through individual donations… If it wasn't for generous individual donations, this club would not have been possible," he added.
Program information
The Boys and Girls Club East End location can be found at 695 Innovation Drive, Empire Place, Unit 11. They offer free play for children from birth to age six, Monday to Friday, as part of the provincially-funded EarlyON program, as well as a daily fee-based Kids Zone program for children up to 12.
The facility can also be rented out for birthday parties and private events.
For more information on programs and schedules, visit: http://www.bgckingston.ca/locations/east-end.
Samantha Butler is a life-long Kingston resident and writer. She is a news junkie and mom who loves reading, chasing her toddlers and working out.