A Very Royal Cabaret
December 10, 2021 @ 7:30 pm

-

December 31, 2021 @ 9:00 pm

|

Recurring Event

(See all)

One event on November 27, 2021 at 7:30pm

One event on December 10, 2021 at 7:30pm

One event on December 11, 2021 at 2:30pm

One event on December 18, 2021 at 7:30pm

Free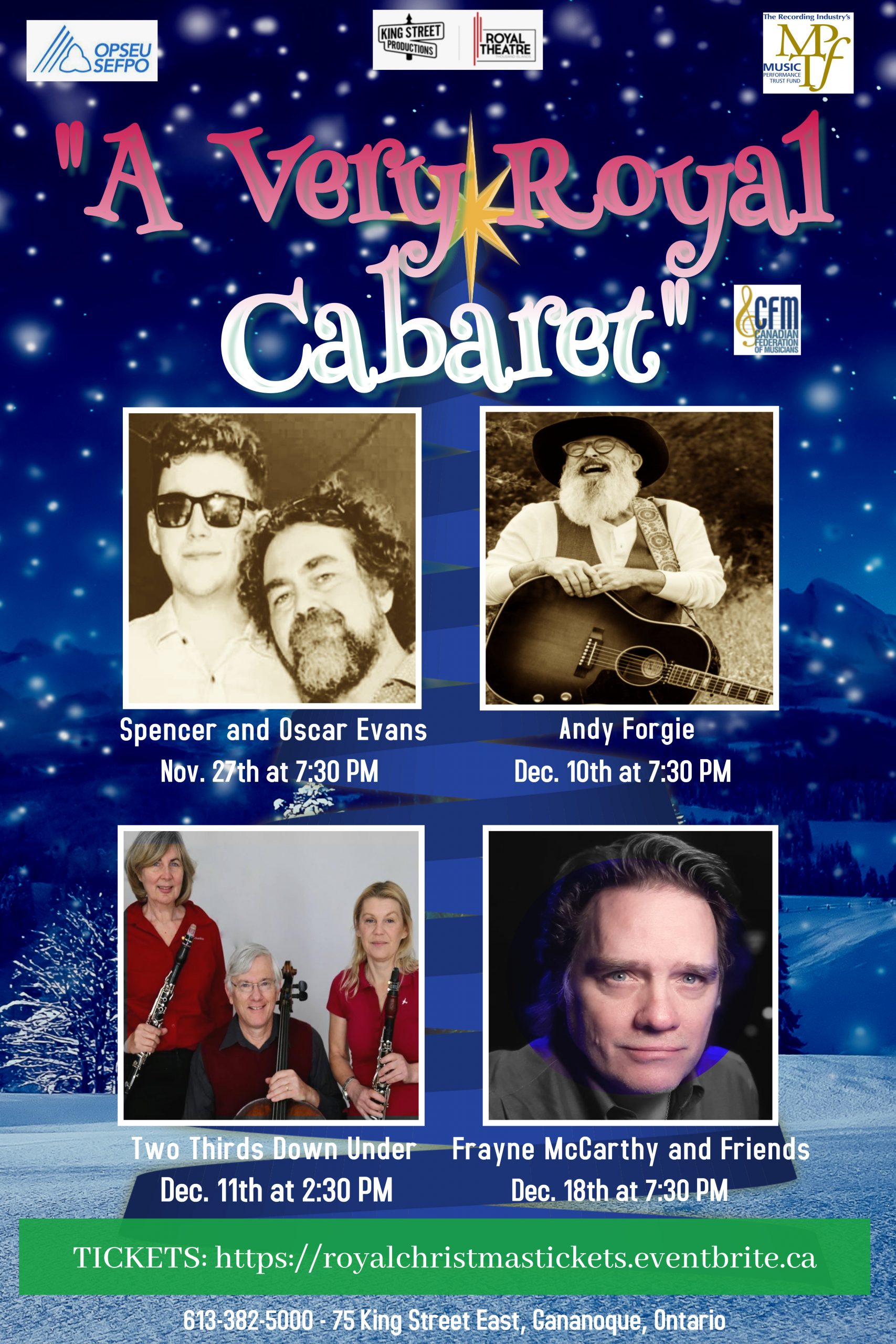 Fresh off the success of its inaugural Friday noon summer series Sounds of Hope, Kingston Musicians Union is reclaiming the indoor concert experience and introducing a new concert venue; the Royal Thousand Islands Theatre in Gananoque, Ontario.
In partnership with the Ontario Public Service Employee Union (OPSEU) and King Street Productions, we are thrilled to present "A Very Royal Cabaret" to kick off the holiday season.
Beginning November 27th, 7:30 p.m. The Royal Theatre Thousand Island will offer a four-week series of free, 80-minute, concerts in Gananoque at the Royal Theatre (75 King St East).
The theatre has been repurposed as a Cabaret to offer the best of both worlds: live music, combined with intimate seating properly spaced to adhere to the current Covid-19 protocols still in effect.
Artistic director Frayne McCarthy is optimistic that the theatre will be able to attract an audience desperate for live music and entertainment, especially in the holiday season. "The cabaret layout is quite beautiful, and we've had lots of positive feedback about the setup and vibe."
Seating at the Royal Theatre is capped at 60 attendees, and all tickets will be purchased from Eventbrite to make the experience as seamless as possible. Attendees can also download the required COVID questionnaire before the concert and present it along with their tickets.
Jazz Musicians and local artists Spencer Evans, and Oscar Evans, will open the series on November 27th at 7:30 p.m. The concerts will bring opportunities for musicians to perform once again and answers the craving of many music-lovers for a more intimate experience of an indoor concert.
Additional performances will include a solo performance by Andy Forgie on December 10th, a Family matinee concert on December 11th by Two Thirds Down Under, and a final concert on December 18th featuring traditional Christmas and holiday music by Frayne McCarthy and friends.
"COVID hit performance artists pretty hard. Our venues were all closed, and our audiences were stuck at home," said Sue Moore, Secretary-Treasurer of the Kingston Musicians' Union, Local 518. "It is hard to make a living when there is nowhere to play and, through live streaming and outdoor concerts are great, there is nothing like the dynamic of a live audience in an indoor venue. The acoustics are different. The whole experience is different – for the artist and the audience member".
A Very Royal Cabaret brings all three elements together again, reintroducing that unique dynamic that comes from a tremendous acoustic environment and the interplay of the artist with the audience.
Mark Wilkins, acting president of the Kingston Musicians' Union, Local 518, is excited about the concert series noting that "the Royal Theatre is well laid out for live performances and in addition, each concert will be streamed live to Facebook Live at no charge to view."
Seats are also offered free of charge thanks to the generous sponsorship from OPSEU and MPTF, Other sponsors include the Kingston Musicians' Union, Local 518, and King Street Productions.
Contributions from MPTF was a lifeline for many local artists during the lockdowns, enabling them to live-stream performances from their homes or private venues. Recently, Kingston Musicians' Union's partnership with their sister union OPSEU has made producing live entertainment possible here in Kingston. "One thing we found most difficult when providing these free concerts to the public was obtaining co-sponsors. OPSEU has helped us make these concerts a reality. We're Incredibly fortunate to have OPSEU and the Musicians Performance Trust Fund (MPTF) as partners" added Sue Moore. "This project came together very quickly: we asked last Tuesday if there was a possibility of funding, and the concert series was booked and ready to go by Wednesday".
Seat reservations and a full roster of the four concerts in the season can be accessed via Eventbrite: https://royalchristmastickets.eventbrite.ca.