Re-Designing Victoria Park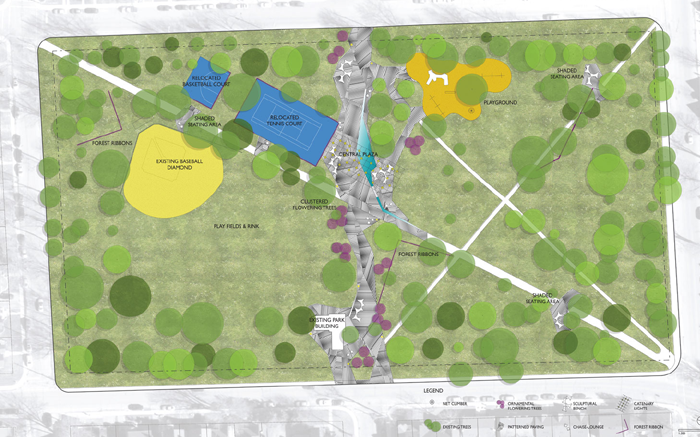 Victoria Park is one of downtown Kingston's larger public green spaces, contained by two city blocks, the 30,000 metres squared park is lined with dozens of mature trees and home to recreational infrastructure ranging from the popular winter skating rink to tennis courts. Established in 1876, Vic Park is undeniably showing its age, as evidenced by the weathered wading pool and public restrooms that are slated for demolition later this summer. When the City of Kingston announced that the aging park would receive some much needed TLC by way of a face lift, many area residents cheered at the prospect of bringing the park's amenities in line with what is available at other recently refurbished spaces such as Lake Ontario Park, City Park and the Memorial Centre.
A public meeting was convened just over a week ago to seek feedback on a pair of transformative concept designs illustrating what the future might have in store for Vic Park. Both options envision resizing and repositioning existing tennis and basketball courts, establishing a central promenade, gathering spaces and seating areas, as well as removing underutilized parking, with no changes to the existing softball diamond and winter skating rink. The two designs otherwise differ in terms of overall style, inclusion and placement of key elements, while highlights and specific details have been made available.
With public feedback regarding the two designs being accepted until Monday, July 20th, this week's poll wonders:
Which concept design for Victoria Park do you prefer?
Elements from Concepts #1 and #2 (74%, 92 Votes)
Concept Plan #2 (10%, 13 Votes)
Concept Plan #1 (9%, 11 Votes)
Neither. (6%, 8 Votes)
Total Voters: 124
Loading ...
There are certain elements of both designs, which I find attractive such as the sculptural benches and catenary lights from concept #1, as well as the areas for outdoor art installations and taller lighting elements from option #2.  I like that both plans include central corridors, plazas and ponds, however these elements also raise some concerns.  For instance, the massive size of the promenade will sever the park in two, and it may give way to an increased number of hurried cyclists looking for a shortcut between Mack and Brock Streets.  I also have to wonder, whether or not free public WiFi is included as an amenity available in the central plaza or if it was simply overlooked.  The ponds and water rills are also worth a bit more scrutiny, as simple splash pads may be easier to maintain and otherwise protect against unwanted activity caused by unruly passersby.  That's all to say, I think that a design that blends elements from both concept could more than adequately breathe some new life into Vic Park for generations to come.
What are your thoughts on the concept designs for Victoria Park?  Are you disappointed that neither plan includes a dog park, parking, or amphitheater?  Drop off your comments below, and be sure to also share them with the City of Kingston before next Monday.