The Wilderness prep US tour with Brooklyn gig tonight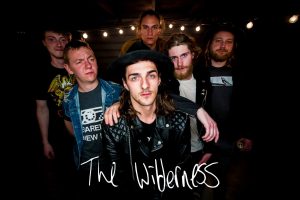 Kingston's The Wilderness has played about 200 shows in the last year across Canada and the US, but they still consider their hometown their favourite place to play. Just this week, they announced a last-minute show at The Brooklyn, which is tonight at 9 pm, to help them raise some money to support their next American tour.
"We spent $5000 just on visas," says guitarist and singer Jonas Lewis-Anthony. "That's before gas, places to stay, food, merch, and all that stuff."
The visas are tricky business because the six band members come from several different countries. Lewis-Anthony is a dual Canadian-British citizen, saxophonist Nicholas Lennox is Canadian, bassist Karl Tombak is Canadian-Estonian, keyboardist Liam Neale and drummer Henry Lawrence are American, and guitarist Sacha Léah is Swiss-French. They met in Kingston in 2015 and began as a four piece, adding Neale and Lennox to the lineup in the last year.
For their summer run in the US, The Wilderness was supposed to spend the majority of their tour opening for South Dakota's Onward Etc., but when Onward Etc. was offered a last-minute mid-tour festival date that they couldn't turn down, The Wilderness was left to fill over a month on their own.
"We booked the rest just being email warriors and cold-calling," says Lewis-Anthony. "And where we don't have gigs, we're just going to go busking."
The Wilderness have done several cross-Canada and -US tours. Some profitable, some not so much.
"Last year's tour we lost $3,000,' he explains. "We had a lot of vehicle issues. The insurance company cancelled the insurance on our van, and we had to come home early. This past February we toured northern Ontario, and we actually made a profit."
They've also learned from their mistakes.
"Instead of doing a huge wild tour across the country, we've decided to only go where we can get actual guaranteed money," says Lewis-Anthony. "It's all very well to drive six days for one show so that you can say that you've done it, but if you're putting $200 worth of gas in the tank everyday and making nothing on the other side, it's not great."
Lewis-Anthony never hesitates to say how much he loves his band and the rock-n-roll lifestyle.
"I'm really lucky that I get to play in a band with my best mates," he boasts. "There have actually been very few tensions on the road."
During last year's tour, however, there was one tough day that Lewis-Anthony was able to find a simple solution for.
"I usually find that cooking a home cooked meal is the best thing for morale," says Lewis-Anthony. "We had a tough day on tour where the gig sucked, and we were tired and arguing, so I used the $45 that we made at the gig and bought some ingredients and made spaghetti for everyone. After that and a couple of beers, we were saying "I love you, man!" to each other put it all behind us right away."
For tonight's gig, The Wilderness are looking forward to playing a loose show in front of their local fanbase, which they consider to be like family.
"There's a really community around this band and this city," says Lewis-Anthony. "We can get away with a bit more silliness here. Sometimes we wear fancy dresses or cooking aprons with penises on them."
Next up, the band is preparing to record their next album.
"We've been touring for a long time on really badly recorded music," says Lewis-Anthony. "In September, we're going to become weekend warriors again and focus on putting out an EP."
Catch The Wilderness tonight (Friday, Jun. 29, 2018) at The Brooklyn. Cover is $5, and the band will also have tip jars available to help them get on the road for their US tour, which starts July 12 in Cincinnati, Ohio.