The Closing of St. Joseph's/St. Mary's: The Red Brick Schoolhouse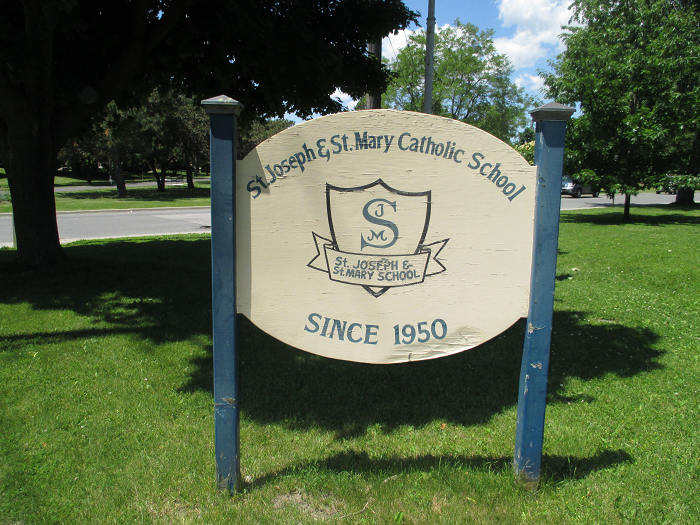 There is an unpretentious building at the corner of Brock and Napier Streets. It's a small, red brick schoolhouse, which offers classes to elementary-grade children. The history of this building is gentle and happy and, as with all things in life, it is taking the natural course of things: St. Joseph/St. Mary Catholic School is slated for closure in the spring of 2015. Initially saddened at this news, students and staff from throughout the school's history are gathering to hearten one another by celebrating their shared blessings. The school's gentle and happy history is reflected in these good people.
St. Joseph Catholic School opened in 1949, based on a temporary school established three years earlier, on a patch of land owned by St. Mary's of the Lake hospital. With an enrollment of 218 and six classrooms, the school offered Grades One through Eight. The school's colours were royal blue and gold. Over the years, Kindergarten was added and Grades Seven and Eight were moved to Cathedral School. Two more classrooms were added in 1957.
In 1979, St. Mary Catholic School closed its Brock and Clergy Streets location and incorporated with St. Joseph school, a result of declining enrollment. Everyone connected to St. Joseph/St. Mary Catholic School understands that the wax and wane of school-aged children determines a school's viability.  The property boasts a large grassy area that has, over the years, afforded children room to learn field sports like baseball and soccer. It has an ample paved lot for solitary and group recreation, like skipping, hopscotch and 4-square. Perhaps the most memorable piece of this landscape is Churchill Park, whose scents, textures and colours beckon from across the street. The landscape has remained an incubator for the kind of childhood memories that keep everyone connected.
Neither the building nor the property are entirely responsible for creating this cherished community, however. More indebted are we to the teachers who've built this small, red brick building into a home for the children. I myself learned to tell time, played earnest baseball and had my first crush there in the '60s.
On opening day, the principal was Sister Mary Eusebia. Among the teachers on staff, there were four other sisters of Providence (Sister Mary Francis of Assisi, Sister Mary Audrey, Sister Mary Alexander and Sister Mary Anna Rita) and Miss Marion Lawless.
I visited with Sister Mary Alexander—today known as Sister Julia Hamilton—at the Motherhouse.  Sister Julia is still very lively.
"When St. Joseph School opened," she told me, "I taught Grade Four, Five or Six. What wonderful memories I had!"
"Coming in that first day," she reminisced, "it was really wonderful to enter a brand new shiny school.  Joe Clark was the caretaker and he had everything ship-shape. He served us faithfully for years!"
"These little children came with their parents," she continued. "Once the parents disappeared, there were tears. We were able to hook up a sister or brother to sit with them for awhile. On some occasions, when they came in after the morning recess, we'd be missing somebody. One time, I could see a little girl on the street, swinging her book bag. I called the mother to say she was on her way home."
"What were the school's boundaries, in those days?" I asked.
"Well," Sister said, "people came from St. Mary's Cathedral parish and from Union Street School, and of course, those in the area of St. Joseph's parish. In the beginning, the parish was served in a small frame church close to Princess Street, where there are condos now, on Regent Street."
"It was a little school—just six rooms," she continued. "The auditorium was good to have for the Parent/Teacher Association meetings. They had good support."
"Next to the front office was the nurse's room and a little kitchenette, where we had our coffee breaks.  We had our lunch there, which we brought from the Motherhouse in a basket. Sister Mary Audrey was closest to the kitchen, so she'd go in and put on the casserole and turn on the oven."
"Are you familiar with the saying 'What makes a house a home?'" I suggested. "What do you think it is about St. Joseph School that makes it more than just a building?"
"It was the people," she said. "We meet up with pupils and parents now and the conversation always goes back to those happy memories. You know, we had the usual seasonal parties like on Valentine's Day and we tried to ensure everybody got a card."
"I remember that!" I exclaimed. "I can still see some of the cards I took home."
"I recall Inspector Matthews," she continued. "He was anxious that the children learn to compose, so he got the idea of doing a paragraph a day. In Grade Three, the paragraph had to have three sentences, in Grade Four it was four sentences, and so on. I sent some to do it at the blackboard. One day, that's what they were at when Mr. Matthews came in. One girl wrote her story on the programme, I Love Lucy. He commented on that."
Sister Julia asked me, "Do you know Churchill Park? Sister Mary Audrey had a big group of Grade Ones.  One morning, a little girl came in with flowers for Sister; she smelled them and said, 'They planted them in the park so many people would be able to see them. I'm not sure we should be picking them.' The child said, 'But they're laying down, dying!'"
"How do you feel about the school closing?" I asked her.
"I feel very sad," Sister Julia told me. Sister Julia was transferred from the school in 1957. "I felt lonely leaving St. Joseph School. When I come up Brock Street even now, I say, 'There's my school!'"
Over the course of the school year, the committee is planning several events—a tree planting in Churchill Park, a mass at St. Joseph's Church and a tea at the school. The community at large will be invited to share in this celebration of life.
Watch Kingstonist for future stories from past students, teachers, clergy and trustees associated
with the enchanting history of St. Joseph/St. Mary Catholic School.