Six Questions for Ryan Cowl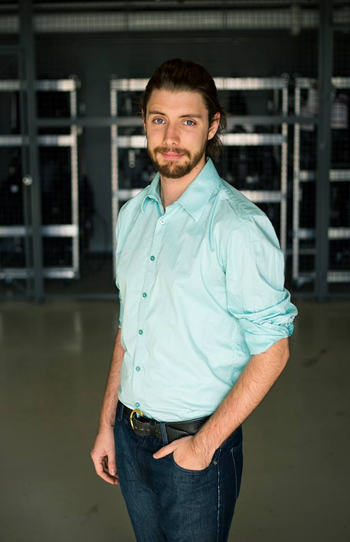 Ryan Cowl is a recent graduate of the Dan School of Drama and Music from the Bachelor of Music program. Ryan is about to enter his final year at Queen's in the Bachelor of Education program. His main focus is on musical theatre, but has been extensively trained in classical piano and voice as well. We caught up with Ryan as he was putting the finishing touches on [title of show], an exciting production that's a part of the inaugural Juvenis Festival.
1. Tell us about yourself and your background with respect to music, theatre and the performing arts. What brought you to Kingston in the first place?
My background is quite varied, I started with piano at the age of 3 and really focused on that while picking up other instruments on the side, I started studying voice in high school and it was also during high school that I really fell in love with musical theatre. From there I spent three seasons Music Directing for a couple different children's musical theatre companies. I decided to further my education in music and auditioned at several universities and chose the Queen's Bachelor of Music and Bachelor of Education program because of the smaller size and large sense of community, and also because of how much I loved Kingston. I definitely chose correctly as Queen's and the Kingston arts community have allowed me many opportunities to participate in theatre as a music director, an actor, and a pit band musician in over a dozen shows over my four years here.
2. [title of show] is billed as a wacky, metatheatrical production with fantastic music and a hilarious script. How did you become involved in [title of show] and the inaugural Juvenis Festival? What sparked your interest in taking on this unique project?
I fell in love with [title of show] last summer. I had never heard anything like it and it just totally blew me away. [TOS] is a show written by writer Hunter Bell and composer Jeff Bowen about their own lives living and writing in New York City. Its creative genius lies in the blurring of the lines between fact and fiction. Hunter and Jeff have written a show in which the main characters – Hunter and Jeff – are writing a show about two guys named Hunter and Jeff. This blurring is not used as a gimmick, but instead allows for the audience to really gain an authentic view into the lives of these two very real people. It was this authenticity that made me so excited to pitch the show. In a way I got to live the lives of Jeff and Hunter as they/I try to get their show into a festival and to also act in it and really bring it to life.
3. You have experience working in musical theatre in roles such as Musical Director and Conductor. For this production, you've been juggling responsibilities of Project Lead, Producer and Actor. What challenges have you encountered along the way? How have maintained an even-keel during the lead up to the premier?
The majority of my experience has been as a musical director and actor, and luckily those are the two main jobs I do for this show as well. I am also credited as project lead/producer as I pitched the show and have been responsible for keeping all elements of the show together, in addition to my roles in rehearsing all the music as MD and learning and performing as actor. The majority of my challenges have mostly been time constraints, five weeks is a very quick turnaround for a musical, even a one act like [title of show]. My guiding light and my support during all this craziness is my team. I've pulled together a really incredible production team and cast. This show would not have run as smoothly with anyone other than Maddy Scovil and Madison Horton co-directing or without our incredible stage manager Madison Lymer. Maddy also joins myself, Hunter Agnew, and Sammy Johnston in the cast and with such a small team we've created what I think is a really fantastic product.
4. Kingston is often credited for having a healthy amount of live theatre for a city its size. Why was it important to you to get involved and help this new festival get off the ground? What benefits and rewards do you envision as a result of this youth-led, creative endeavor?
I come from a very small town with an even smaller theatre community. Kingston excited me because it was not only a really active artistic community, but one that welcomes students and new faces. In a professionally driven or huge community like Toronto, finding work or opportunities can be a real struggle whereas in Kingston and at Queen's I've been extremely fortunate and been given many opportunities to grow and develop my skills as a theatre professional. Juvenis really plays into this idea, it not only has given dozens of youth opportunities as performers, directors, and other various production positions, but it has given us ownership over our art. Juvenis is youth-run and really youth-driven from the top down and has given us as young people the opportunity to really have a voice and advocacy over what we want to create, and the process of how we want to create it.
5. The Juvenis Festival boasts a wide variety of shows, focusing specifically on performers between the ages of 13 and 30. Aside from [title of show], can you give us a glimpse of what shows you are personally looking forward to the most? Which performance/performers do you think will be the talk of the festival?

I'm personally looking forward to Kay Kenney's original dance piece "initially/unconditionally" not only because of the really unique way it portrays relationships through contemporary dance, but really just to see Kay revolutionize Kingston by bringing her first and maybe Kingston's first local full length contemporary dance piece. That being said all the shows in the festival are going to be amazing, there is some really unique and powerful stuff being created for this festival and I'm so excited to see as much as I can.
6. Looking beyond [title of show] and graduation this Spring, do you plan on pursuing a career in the performing arts? How does Kingston factor into your plans and when can we expect to hear from you next?
My end goal is to find a career in music direction, hopefully in musical theatre. Music directing for theatre gives such a unique view on the creation process. Working so closely with directors, casts, and pit bands allows the role to have a hand in everything and I really feel accomplished when a show I've MD-ed has come together. I really hope to end up in a city like Kingston as a professional; the tight knit community that I've observed here is something I'd really like to call home in the future.