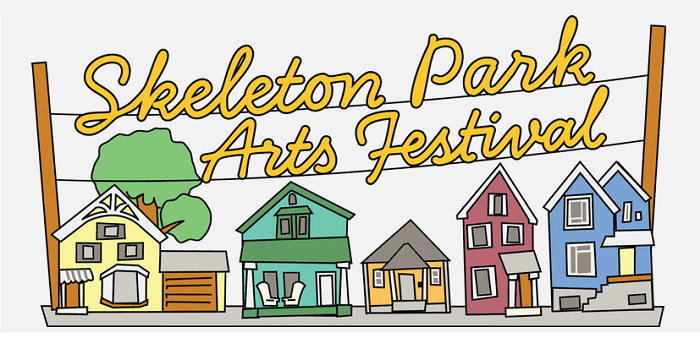 Porch Jazz has become a staple event as part of The Skeleton Park Arts Festival which takes place at the end of June, beginning with the Summer Solstice weekend (June 20th) each year.  The festival itself has grown in size from a weekend long music festival to a week long event including theatre productions, film screenings and this year there's even an outdoor contra dance featuring Sheesham and Lotus and The Open Voices Community Choir.
Porch Jazz will take place on Saturday, June 21st at 12pm.  Starting at The Mansion and making its way down Chatham and York Streets to the Skeleton Park Arts Festival, the fourth annual Porch Jazz Parade offers a series of performances by many of Kingston's top jazz performers.
Porch Jazz is a fun romp through the streets with pit stops for concerts along the way.  The Heavyweights Brass Band will lead the parade of Kingston residents and musicians.  All are welcome to join in the music en route, so feel free to bring an instrument and join in the joyful noise.
At each location, local jazz ensembles will play a half-hour set during which audience members are invited to dance in the streets or bring a portable lawn chair and relax.  This is a terrific and fun event that is family friendly and brings the whole community together.  The parade route ends at McBurney Park (Skeleton Park) where the music will continue on the main stage until 9pm.
Here is the schedule for this year's Porch Jazz.  Also, be sure to take a look at the highlight video from 2011's parade.  Hope to see you there!
12pm, The Mansion, 506 Princess St: The Hannah Barstow Trio
1pm, 387 Alfred St: The Pram Trio
1:30pm, 128 Chatham St: Jonathan "Bunny" Stewart
2:30pm, 98 York St: The Ventanas
3pm, 104 York St: The Skeleton Bones
3:30pm, 52 York St: Lightbox
4pm, Porch Jazz Parade ends at the Skeleton Park Arts Festival with The Woodshed Orchestra