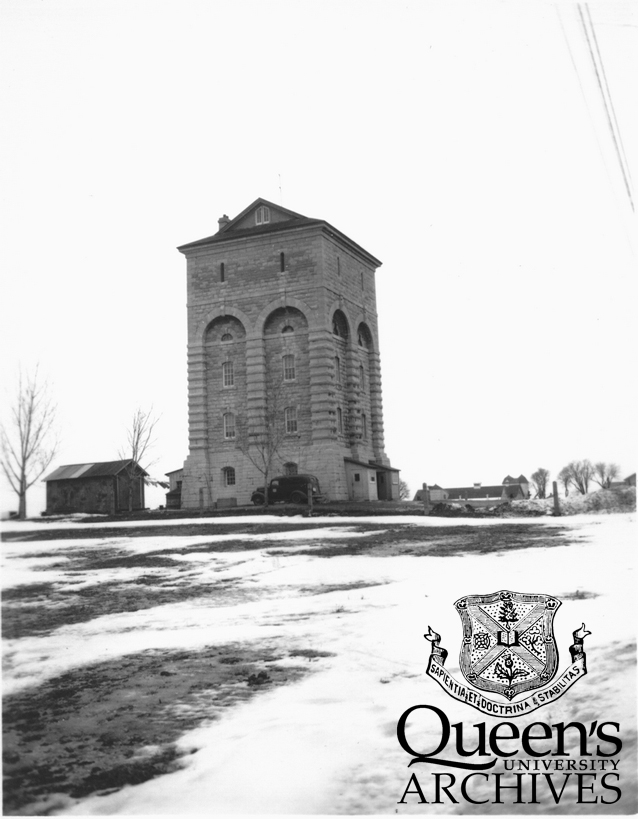 Local urban legend has it that this sturdy landmark on Sir John A. Macdonald Boulevard, photographed by George Lilley in 1949, was where prisoners were hanged. Of course, this could not be farther from the truth. A purely functional building, the Kingston Penitentiary water tower was completed in 1895 on the former site of the Penitentiary Farm, now West Campus of Queen's University.
Water was pumped from Lake Ontario to the Water Tower. This water was stored in a 75,000 gallon metal tank located in the upper two floors of the tower. The height of the water provided pressure so that the water could be piped around the surrounding area. At one time the Water Tower provided for the Kingston Penitentiary, the Prison for Women, Collins Bay Penitentiary.
Beneath the massive iron tank, which was built by the Montreal Iron Works, are two 3-storey apartments in a duplex arrangement on the north and south sides. On the first floor of the apartments there was a kitchen and living room. The second floor held two bedrooms, while the third floor had one bedroom and a bathroom.