Eviction, empathy, and engagement: The complex case of Belle Park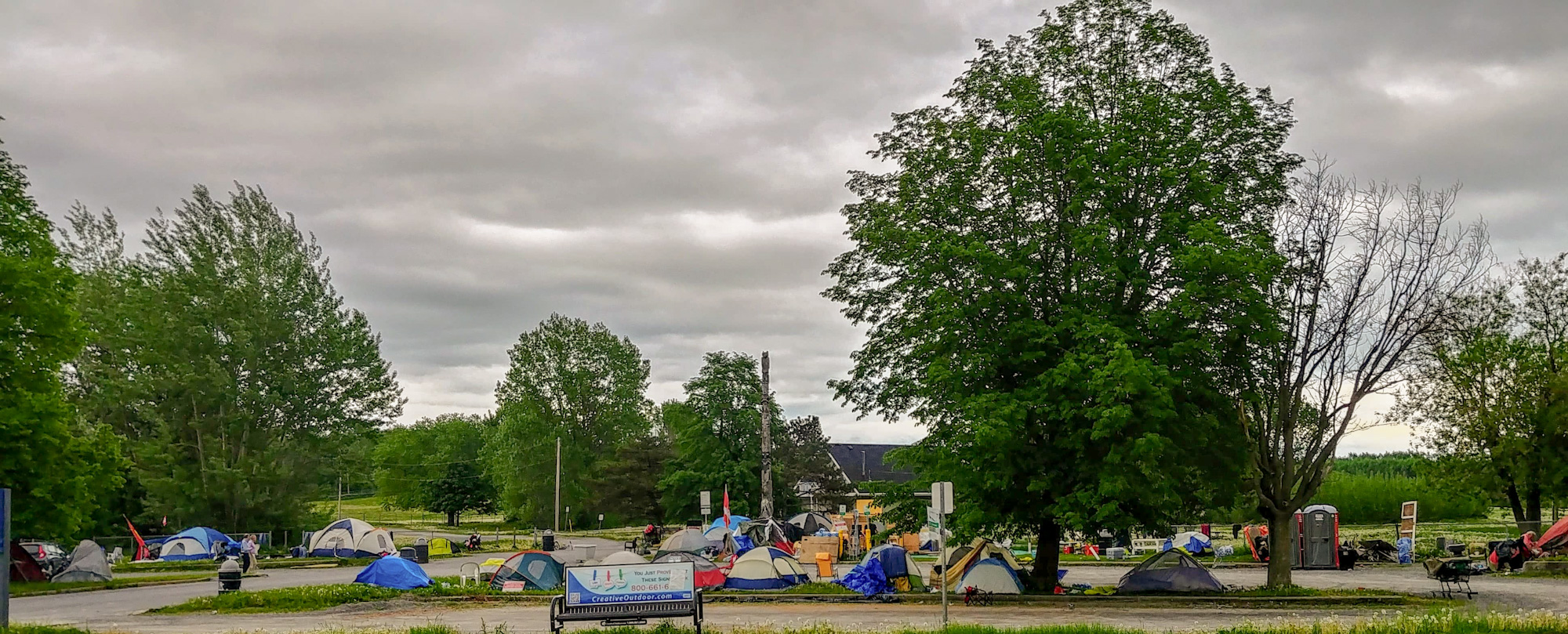 A new encampment with many needs
I received my first tip about the Belle Park encampment approximately three weeks ago from a resident of Kingston's Inner Harbour. I had not driven past the outer Montreal Street park for many months, at least since the start of the pandemic in early March or late February. So I was a week or two behind this evolving story, as tents started popping up at the beginning of May. At that juncture, until the end of last week, the City permitted the camping in question.

As is usually the case when a new issue arises, and when someone reaches out about it, I contacted City Staff. I tried to get a read of the situation from their view. I also talked to Council colleagues about what they were hearing. This took roughly a week.

Over that time, the number of other people who messaged me about Belle Park on email and social media grew, seemingly in proportion to the number of people who call the site home; a site on a bus line, close to other services, and near(ish) to downtown. There are now approximately 30 individuals, some long-time Kingstonians and others new to the municipality, living on the former municipal landfill and golf course. In response, my correspondence with city department directors, the Chief Administrative Officer, the Mayor, and councillors also grew.

In writing this article, I researched best practices on encampments, drawing from the work of the United Nations' former Special Rapporteur on Housing. I met – outside, six feet apart – with individuals who were, at their own expense, donating items and food to those experiencing homelessness. I heard from advocates and professionals promoting mutual-aid and providing infrastructure for the community at Belle Park. I worked with City Staff to discern the particular relationships and corresponding activity of community partners who offer on-the-ground support to the campers.

The web of people and organizations was, and remains, tricky. For many, in our conversations, it seemed that emotions were close to the surface. Some folks openly were upset. They claimed that the City had not done enough to support the residents at the park. Others were more objective, such as a local family physician who made constructive comments about improving the health and safety of residents. Many, including those supporting a petition I was sent, asked the city not to "evict" residents. This advocacy piece was in response to a City of Kingston press release, and resulting media reports, which said "staff will work on transitioning the people currently camping out of parks by June 5, at which time the City will no longer allow any camping in city parks."
Indeed, each person I spoke with had a slightly different perspective on what this would mean and what had already transpired. But despite the multiple takes, something was missing. I tried to parse out those "for" and those "against" the encampment, as articulated below. Regardless of my analysis, my understanding was still incomplete.

It wasn't until I visited Belle Park myself on the morning of Thursday, May 28, 2020 that I was able to see the whole picture. Rounding out everything I had read and heard, was simply and profoundly, the opinions of the encampment residents themselves.

Yet, this case is undeniably complex, especially because the campers are diverse. There is not a single need to be met or voice to be heard (though an intelligent and kind young man – who was frank and productive in his comments – seems to be emerging as a leader of the camp). Rather, there are many needs and many voices: this was echoed by service providers working with Belle Park-ers. Even television clips convey the diversity. Residents' responses to questions on their living conditions range from "it's not a place to call home" to "I like it here because I don't like to live alone." The community sentiment was expressed to me in person by an older gentleman living in a tent who was asked to leave a shelter earlier this year for breaking the rules. He had offered other people experiencing homelessness accommodation in his room. In the shelter, that was not allowed. Nor was he allowed to access a laptop at the COVID-19 shelter he went to. He was asked to leave there, too. At Belle Park, he could build a "family" beyond the more rigid rules of the other institutions.

His comments were genuine. They were not shared by everyone, however. Some have already moved out of the space ahead of the city's June 5 deadline. In the press, one former camper cited "danger" due to activities in the vicinity. On the other hand, others said they plan to wait until the deadline, but leave nonetheless in order to be "law abiding citizens." In fact, I was shown many examples of how campers have respected the rules given to them by the Fire Department and By-Law. Campers have also contributed to the public good, cleaning up adjacent shorelines and forests, for instance. Most salient in my mind was the residents' refusal to break open a switch box next to their shelters to turn on the power of a nearby outlet; power they need to charge their phones and use a kettle. Power they should have – and could have had with a relatively small act of vandalism (or key from the Utilities). Yet, as a collective, they chose not to bust the door in order to maintain a respectful relationship with the city.

As is usually the case when dealing with humanity, though, attempts to valourize, demonize, polarize, or present a situation, cohort, or person in black and white quickly turns grey. Things at Belle Park are challenging to conceptualize. The reality of the encampment is definitely grey. I suppose that is particularly to be expected when human life and human rights intersect with the social/economic issues of housing and homelessness and the government's response to all of the above.

Sorting through the various voices and experiences, it can be hard to suss out what exactly to do and how I, as a councillor from a different part of the city, can help. My small attempt at making sense of it all and advancing the conversation in a good way is before you.

By putting pen to page, I am keenly aware that what the City has done (or not done) and will do about the encampment is under intense scrutiny by many people and groups in our region. That is fair. Most importantly, I recognize that any action (or inaction) has a direct impact on a vulnerable demographic, residents of our city. No matter our position on the encampment, we must double our efforts to make campers feel welcome, regardless of where they live. They are us. We are them. I believe this deep down.
Two approaches to the encampment: Empathize or evict
Through all of the conversations I've had, and reading I've done, despite the greyness and trickiness of the situation, there appears to be two clusters of perspectives on this topic along a spectrum, moving from eviction to empathy.

Some say, "Let them stay." It's a no harm, no foul approach. In a city like ours, with a dangerously low vacancy rate, and in light of a global health emergency that exposes and exacerbates inequalities and lacks equity, it's easy to think that 'live and let live makes' sense here. Some might even say this in situ (in place) position is in line with the United Nations' "A National Protocol for Homeless Encampments in Canada." In short, this way argues for empathy, not eviction. It's a perspective that I imply from comments made by a resident last week in the media. He said occupants "greatly appreciated the approved location" as indeed, the City originally allowed the activity at Belle Park.

Others say, "They must leave." It's a not-in-my-backyard approach. In a city like ours that has shelters and other supports, including new spaces for COVID-19 self-isolation, a youth shelter that allows for physical distancing, and shelter overflow potential in hotels, it's possible to think that this surgere et abier (get up and go) position is reasonable. Some might even say the campers have no prerogative to be there; it's a public area, not a private campground, and that it is a danger to those who want to walk in the park. In short, this way argues for eviction. It's a perspective that I imply from comments made by a camper, quoted already, who left the encampment last week to live on Princess Street instead. He said he was endangered by the happenings at Belle Park.
A similar encampment caused issues in Peterborough last year. There, the city was divided as to whether or not people experiencing homelessness, and their tents, should be allowed on church property near a prominent downtown park. Thankfully, Kingston has not experienced such a backlash at this point in time, on either side. And I think if we walk care-fully, we can balance the two lines of thought and see the best outcome for the Belle Park residents.
Common themes
In fact, there are already two themes that unify these apparently disparate positions of empathy and eviction. The connections bridging the two are, negatively, suspicion of the role of the City; and, positively, desire to find common ground between City Staff and residents.

Based on the correspondence I have received, "Let them stay"-ers think that the City has failed to collaborate and communicate with and provide for the people at Belle Park. This came across strongly in some rather sharp emails in my inbox. "They must go"-ers would probably say the City has not done enough to end the situation sooner. As one man living at Belle Park recounted to the media last week, people have driven to the park and yelled such things at the residents. I witnessed similar harassment when visiting the site, as a man hollered what sounded like disparaging comments from the window of a passing car.
Yet, like most complex files, beyond the unflattering behaviour of adherents, both positions are right and wrong at the same time. Again, things are grey.
Either end of the spectrum is right because we absolutely must ensure we uphold best practices of care for marginalized communities (empathy) while maintaining the safety of public space (evicit). But both groups are wrong because the City has been diligent in working with and for the Belle Park residents. How? Mainly through partnerships with area non-profits, including but not limited to Home Base Housing, Street Health, and Addictions and Mental Health Services. Such engagement has been done in order to move Belle Park's nascent collective to more appropriate accommodation. Has it been perfect? No. Missteps have been made, like not informing residents of the move out date in person. And more must be done.

Which is where the positive agreement across the eviction-empathy continuum comes in: The residents of Belle Park are open to working with City Staff, and City Staff and their partners have done good work already and are seeking additional solutions every day. This common ground is premised on consultation – perhaps the only possible good way forward.
A third way: engage
I support this third way. Engaging the folks at the encampment in hopes of moving them to other campgrounds, motels, apartments, or shelters is how we can ensure the health and safety of the campers is respected and protected. I'm not alone in my thinking. City Staff, including the Director of Housing and CAO, have started working on many options accordingly. Likewise, at the encampment I heard that, though disappointed that the initial acceptance of their location was rescinded via press release, residents are willing to work with the City. They are open for dialogue to talk about next steps. A peaceful resolution is at hand.
Engagement also provides important context for a more holistic discussion on housing and homelessness in the City of Kingston in time to come.
I think the best way to frame engagement that will be agreeable to all, and communicate that which has already happened, is the aforementioned United Nations' document. Before I do that, I need to be clear: I am not saying every move of the City has been perfect, as people from the 'empathize' and the 'evict' sides have made clear. I would say that COVID-19 took an already challenging file and added circumstances to further complicate it, while Staff genuinely tried to work through a multitude of factors swiftly.
I hope that in recapping what has been done and what is planned for days to come, in relation to the advice of experts, we can appreciate that this is not a story of neglect or malice, nor heroism or perfection. Simply stated, the City has made well-intended, though admittedly incomplete, actions to support those most in need. And those at the camp have said they are ready to share their needs to optimize what comes next.
My final disclaimer is that I am not a social worker, non-profit housing provider, nor the district councillor. My information comes from multiple sources, many already sourced, including City Staff, activists, quoted residents – all of whom provided generous amounts of time and insight. I asked residents for permission to share what they shared with me. For all those doing work, especially those not spelled out here, thank you. If I have missed anything or anyone, it is not intentional. I am only trying to communicate facts I've uncovered to help facilitate a shared understanding and a fruitful outcome for all, now and in the future.
Eight principles for homeless encampments
Principle 1: Recognize residents of homeless encampments as rights holders
This principle talks about not penalizing people in these unique situations. Indeed, the City has not issued tickets or threatened fines. The police have not been called in order to evict, and efforts have recognized the rights and importance of participation of those living at Belle Park, though more must be done. Keeping peace as a paramount posture is helpful.
Principle 2: Meaningful engagement and effective participation of homeless encampment residents
The United Nations encourages input from those living in the places in question in this principle. The City has looked to provide increased programming and services in response to their conversations with community partners working directly with those at the encampment. Engagement is an ongoing process.

For instance, the City provided washrooms and wash stations as needed; though various other groups have helped on this front too.

Another example: When the city could not provide water because provincial rules have closed golf course club houses like the one at Belle Park where water could have been accessed, they partnered with Street Outreach to provide potable water.

Likewise, after residents provided feedback that the rules of local shelters were too restrictive and that some residents prefer to live outside, the city began to find alternative arrangements including other, more appropriate, campgrounds for people to stay at.

To be sure, not everything requested has been provided. Power is one. There are turned off electric plugs are within arm's reach of some of the encampment's shelters, unfortunately. Providing power is something the City should look to improve going forward. Any new residence should allow folks to charge phones, plug in appliances responsibility, etc. Again, I'm not saying everything has been exactly as it should be in the past month. I'm only saying, given the pressures of the pandemic and the cumbersome nature of housing and homelessness to begin with, city staff have been both diligent and determined to see a good outcome.
Principle 3: Prohibit forced evictions of homeless encampments
As noted above, in partnership with frontline workers and the individuals of the community themselves, the City has attempted to "identify alternative places to live that are acceptable to" the residents, which is precisely what this principle calls for – in fact, that quotation is taken from the Protocol itself. This needs to continue. Residents were explicit – they said to me in person that they only want to work with the City to find accommodations that have the amenities they need.

To quote the City's official position, in the words of the CAO: "Through Street Outreach and Addictions and Mental Health Services, we have learned more about the specific needs of individual campers and have developed a plan to accommodate as many needs as possible." That is to say, while a deadline for finding these new spaces for folks has been set, it has been done in a supportive and collaborative frame. Not once, for instance, does the City press release on this question speak of "eviction" as such. The difference is noteworthy and speaks to the collaboration needed and in motion.
Principle 4: Explore all viable alternatives to eviction
Leilani Farha, the UN's former Special Rapporteur on Housing wrote in April of this year that: "Where personal needs differ amongst residents of encampments such that a singular best alternative is not unanimous, governments will have to develop several solutions each of which is consistent with the principles outlined in this Protocol." At the risk of repeating myself, the clearest message I have heard coming out of Belle Park from all parties is that there are diverse needs.

For that reason, one size won't fit all. So in addition to the accommodation potential stated above, City Staff are working on additional mental health daytime counselling in order to best meet the individual's current needs, though not all residents felt there was enough direct support, especially after they left the shelter system.

Other services like laundry and shower facilities at In From The Cold, another partner down the road, are also available. It's also worth repeating here that almost two months ago, the City moved existing shelters (in their congregate settings) to provide more and better options for those experiencing homelessness to physically distance during the COVID-19 pandemic, including youth. That is to say, the city opened self-isolation beds in case a person experiencing homelessness needed a place to quarantine. Couple those spaces with the forthcoming campground spots, apartment/motels, more flexible shelter space, and there are indeed many "viable alternatives."
Principle 5: Ensure that relocation is human rights compliant
In considering this principle, it's instructive to remember the current situation is a former dump site that may pose a risk to human health for the campers. The other living arrangements articulated would be more conducive to a rights-based approach because they would be safer. To ensure this, as the campers said to me, any new locations must include ability to access services, especially public transportation. I agree and know Staff are aware of this, too.
Principle 6: Ensure encampments meet basic needs of residents consistent with human rights
Principle 6 includes seven sub-points as follows:

(1) Access to safe and clean drinking water: The city's partner Street Health brings potable water. Remember, the nearby club house is shuttered due to provincial orders due to the pandemic, unfortunately. Where other options exist, they should be investigated.

(2) Access to hygiene and sanitation facilities: There are outhouses and washing stations on site and shower facilities nearby, open during the day. That said, in the words of one of the residents: "We need to be able bathe on site." I think this is a compelling reason for relocation, as other spaces may be more conducive for this.

(3) Resources and support to ensure fire safety: The Fire Department has visited the site, as has By-Law, to advise campers of potential concerns. This has been a mutually agreeable relationship, as I understand it. Campers have, for example, stopped using generators at request of the Fire Department.

(4) Waste management systems: Public Works has collected waste and continues to on a daily basis, and I have heard other groups have done the same, as well, in the order of hundreds of pounds.

(4) Social supports and services and guarantee of personal safety of residents: There have been many community agencies directly involved in consulting and working with Belle Park residents, such as daily check-ins and support where needed. Some residents would like to see more.

(5) Facilities and resources that support food safety: A number of community organizations have been donating food; this is not an area that the City has directly participated in other than publishing a list of available food service locations. It's been amazing to see the generosity of Kingstonians.

(6) Resources to support harm reduction: Additional and Mental Health Services (AMHS) and caseworkers in partnership with AMHS and Street Health have been provided during this time.

(7) Rodent and pest prevention: To the best of my knowledge, other than garbage removal by Public Works and the others who felt inclined to do so, there has not been explicit pest control. The removal of waste, nevertheless, is increasingly important in time to come as the temperature has warmed.
Indeed, recent comments by public health put this into perspective: if animals are attracted, it's possible that the chief medical officer of health may have to "drop the hammer [on the city]" and "write remedies" if needed. It's worth noting here, too, that public health also takes a collaborative approach. Dr. Kerian Moore, Medical Officer of Health for KFL&A Public Health, has encouraged "meaningful discussion" with residents. I agree.
Principle 7: Ensure human rights-based goals and outcomes, and the preservation of dignity for homeless encampment residents
I feel it's safe to say, while the encampment is less than ideal, this principle has been met as at very least the situation has not gotten worse; and at most it has "[moved], on a priority basis, towards the full enjoyment of the right to housing for encampment residents;" though we're not there yet, to be sure.
Principle 8: Respect, protect, and fulfill the distinct rights of Indigenous Peoples in all engagements with homeless encampments
This is an interesting principle in context. Why? Because for years, homeless encampments on Belle Island, the peninsula off the Park, have been deemed by the Indigenous community as obtrusive. Why? Because Belle Island is a traditional ancestral burial ground and the presence of campers has been called a "desecration" by Indigenous activists with whom I regularly meet.

I'm not suggesting the current campsite represents that problem as such. In fact, there are Mohawk/Haudensounee inhabitants of the encampment. And I am not trying to speak for local First Nations' people. As a long-time (though always learning) ally, I strongly believe in the idea that Grandmother Laurel taught me at a talking circle in 2015 – settlers should say "Nothing About Us Without Us." Full stop.
I only point to this dynamic because it exposes the complexity of relocation; it is genuinely difficult to ensure all voices are heard and honoured, while prioritizing dignity and safety in transitioning residents.
Concluding thoughts
The Belle Park encampment is an important moment for our community to stop and take a hard look at itself and truly consider everyone who lives in Kingston, their rights, and our responsibilities. There is much left to consider. We need to talk more about who these campers are and why they are where they are today, at very minimum.
Nonetheless, I hope that by outlining the ways in which the city and their partners have attempted, and will continue to attempt, to engage residents to find other suitable locations, most people will be pleased in the short term. In other words, I think that through continued engagement before June 5, there can be a shared story of a peaceful transition to other accommodations by that date, soon as it is. Making amends based on the surprise announcement of relocation as mentioned above will go a long way, I believe.
This situation, as it is worked through, sets the table for even greater consultation with those experiencing homelessness and collaboration between them, community partners, and our local government. Many have championed this for years, many more than named in this piece. We must listen closely to them and act compassionately in response. Indeed, the conversation doesn't stop when one encampment ends, as there are an array of related issues not explored in this article – from racial disparities, gendered violence, and trans rights, to tenant plights, income inequality, concentration of landownership and housing stock, and more. All require systemic investigation, personal reflection, political action, and policy reform.

One of the residents best summed up what should come next. I will conclude the article as he concluded our conversation, and I paraphrase: Residents and the city need to address the larger issues of housing and homelessness in Kingston, not just at encampments, but in social housing where conditions are not good either. We must review how to best spend public money to support those in need, together.
---
Robert Kiley is Kingston City Councillor for Trillium District and a high school teacher. He writes a monthly "behind the scenes" Op-Ed article for The Kingstonist. He tweets at @robert_kiley.
---