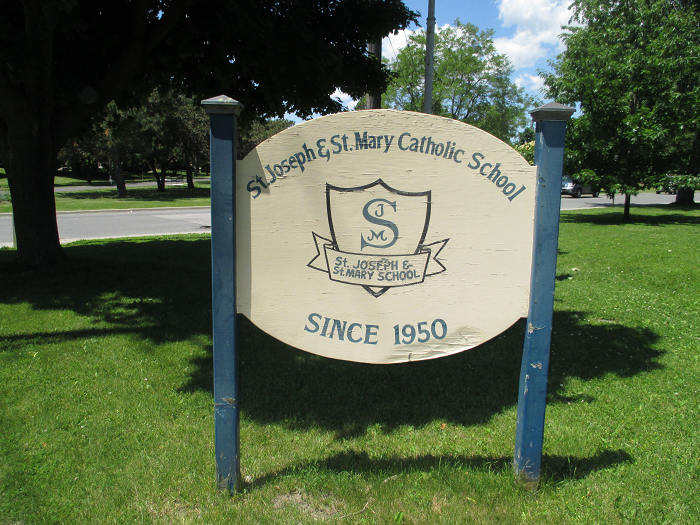 This month, in which occurs the feast day of a good man—St. Joseph—several names have come up in conversation, belonging to other good men to whom students at St. Joseph/St. Mary Catholic School (SJSM) owe a debt of gratitude for enabling us on our journey.
Music has always been part of my journey, and for many at the school, that means Mr. Albert Dunn.  For a time, Mr. Dunn was the music director for St. Joseph's Church, which meant he was responsible for music at the masses at SJSM, at St. Thomas More and at St. Paul's. "I'd visit the schools and I'd help the kids learn the songs we were going to sing. I also played piano for their first communions and confirmations, for school masses and for special school celebrations, like the feast day of St. Joseph."
Mr. Dunn arrived at the school in 1977, after I left. His stories, however, have a timelessness.  "I remember rehearsing with a group of kids from St. Thomas More. There was a little girl sitting on the floor beneath the piano who couldn't stop untying my shoe laces. I finally had to say, 'I really need my shoe or I'm going to fall over!' When you're working with small children," Albert declares, looking gently across at me, "you have to try to keep them focussed, like a photographer with his puppet." He pauses and then asks if I know the butterfly song. "There are actions in it," he adds, his hands moving. Somewhere in the back recesses of my mind, the words slowly collect.
If I were a butterfly, I'd thank you, Lord, that I could sing Mr. Dunn says, prompting me.
If I were a robin in a tree, I'd thank you, Lord, that I can sing I respond, hesitantly.
If I were an octopus, I'd thank you, Lord, for my good looks we sing together, laughing.
But I just thank you, Father, for making me, me.
In the caterpillar stage, I was a rough-and-ready tomboy seeking my place in the universe. I now understand that my left-handedness and my inability to sit still were difficult to tolerate at a time when the overarching philosophy was to mould children through strict discipline and conformity. My restless spirit must have tried my teachers' patience.
There was one man who, perhaps because he never taught me directly, could overlook these things and see me through another part of my journey, that being sports. His first year teaching, Mr. Mike O'Brien taught a grade 5/6 split in 1968, the year I was in a straight grade six. Nonetheless, his impact on my life is remarkable. And when I repeatedly refer to him as Mr. O'Brien, he demurs.
"I appreciate the respect, but since I was never your teacher, please! Just call me Mike."
"I taught at SJSM for my first seven years," Mike reminisces, choosing his words carefully. "I had three principals while there, all of whom let me do my own thing. That gave me confidence." Mike's enthusiasm then bursts out of him. "We did some fun Fun FUN things there! Like the classic staff-student baseball games!" I'm delighted that he remembers these, which are some of the happiest memories of my childhood. "I almost brought a baseball glove here," he confides, grinning.
"What position did you play?" he asks, trying hard to remember me.
"I was the catcher," I say, which he graciously describes as a key position, making me feel important.
"Mr. Raymond Doyle was the superintendent," Mike says, reminding me of someone else I viewed as important. "He hired me," Mike continues. "He would cross the street (from his home) informally at lunch to see how I was doing."
"And do you remember how the maintenance department was in the school basement?" (I don't.)
"There was grand old man who worked as a carpenter there, Bernie Sexsmith."
I gasp. "Mr. Sexsmith was my best friend's dad!" I recall him arriving home with his hat tipped at a rakish angle, bags heaping with groceries in his arms. Mary would press the butter tarts on me as they were unloaded.
"The neat thing is," Mike continues, "Bernie was a rough, tough man, yet he took an old desk—you
know, the kind with the drawer in the side?—he did it up for me as a present for my son."
"He was kind to me, too!" I comment. "It's endearing to connect all these dots."
"Thank you for giving me a chance to remember these things," Mike exclaims, reminding me of another part of my journey, as a storyteller.
"I taught the Grade 6 Phys. Ed. and in return, somebody would teach my Art class," he continues.
"I did get you for sports." I say, hesitating. "I was very jealous at not getting you as my teacher, because you were young and refreshing." He looks up, wondering. "We had a lot of nuns and it was an all-female staff!"
Mike nods his head. "There were some amazing teachers," he begins. "But to have a male teacher …when I got hired, it was considered an advantage. And when I suggested new things, I got a lot of 'Yeses."
We sip our coffee and consider the ramifications. "We had an advantage because in those days, men weren't restricted. I had some crazy ideas and no one ever discouraged me," he says, almost apologetically.
"I've been discouraged plenty of times," I share, grinning. "People would say, 'You mustn't let your imagination run away with you!' That's never stopped me."
"I believe God takes care of us," Mike agrees. "He's been awfully good to me." He looks out the window.
"Another thing I enjoyed about SJSM was the large windows! Many schools were built with small windows back then because the philosophy was that you didn't want to distract the kids. My class would be doing math or science and I'd be looking out over Churchill Park."
Mike considers this, then returns to the original notion. "Curious to see if we could have mass in the park, I passed the idea by Monsignor Walsh and he said 'Yes'. We took a table into that little grotto there and the kids would sit along the wall as we celebrated mass. It was so beautiful in the spring with all the tulips." Mike sighs. "Talk about a community school!"
"Do you remember the floor hockey?" he asks. I lean across the table, wanting to give him something meaningful back. "Yes, and I want to thank you for making a difference in my life. The very week you started the floor hockey, I was in hospital. Here was I, passionate about sports and when I came back to school I wasn't allowed to do anything for a month! It was killing me."
"I went to you quietly and explained my dilemma, how badly I wanted to be involved. You considered a moment and then handed me your whistle. 'Stand here', you instructed. 'When I point at you, blow it hard.' I wasn't in your class. I was just some left-handed, restless tomboy, and yet you made a way for me to learn. To be included."
"Too bad we can't get out and play baseball today," I conclude, teasing. "What position did you play?"
"Catcher," Mike says, surprising me. "but I probably played second base in our game. Was there baseball before I came to SJSM?"
"I think so," I say, pondering. "We girls certainly played baseball every breathing moment that year."
"Whenever I go back, I walk that field to find the worn spot that was home plate," he shares. "Boy, there was a lot of grass back then."
"Oh my, yes!" I agree. "And we girls were desperate to hit the long ball down the field! In that game, I remember the teacher's team having a couple of ringers, and that you had at least one home run."
"Sports are fabulous!" Mike says modestly. "Kids who are involved with sports, well … it's the old journey-and-destination thing: the journey is far more important." We high-five across the table.  "Look at the training involved and the discipline—there are so many carryovers in life when a kid has a background in sports."
The man who, fifty years ago, was not my teacher yet mentored me on the playing field, took this opportunity to encourage me one more time. "When I coach," he explains, "I look at the eyes. You have the eye of the tiger. Anybody who has that intensity can succeed."
"I've learned to work around obstacles and discouraging people," I assure him. "So many people live in fear these days, worrying about the slightest thing. I know they care and their intentions are good, but I can't live my life that way."
"Sure, we can be worried," Mike says, "but don't not do something out of fear."
"Isn't that what faith is about?" I suggest. "If God wants me to do something or go somewhere, then that should be the plan."
"Yes. We have to be obedient," my mentor agrees. "My son has travelled to places I'll never go. I could never create a situation like my grandchildren have had as a result of where they've been."
"Every school is unique," Mr. Dunn had explained. "We talk about space having a defining effect on how you do things. St. Thomas More had a full-sized gym and library, while SJSM had a library in a classroom and a tiny gym. And yet, good things happened there. And the space defines the mood: the space across the street was gorgeous! Because there was no fence in the yard back then, the park was open to the school children."
Now a fully formed butterfly, I'm an unapologetic tomboy whose imagination, like that of many other SJSM students, has taken me out the school windows, past the gorgeous park and into my place in the larger universe.
Thank you, Lord, for making me, me.
And thank you, Mr. Dunn, Mr. Doyle, Mr. Sexsmith, Mr. O'Brien—Mike—for encouraging me to just be me.
The feast day of St. Joseph is March 19th. If you have an enabling and kind teacher in your past—male or female!—take this day to thank them.