Fabulously frugal: Grams – no, not grey-haired older ladies, but still important!
Hello, fabulously frugal Kingstonians!
Grocery prices have risen rapidly lately, and we're all making choices on what to buy and how to save money. With some things there's just no compromising, though — single-ply bathroom tissue simply isn't the same as its multi-ply counterparts! We can't do much about the rising costs, but what we CAN do is compare prices to get the best deals. And one way to do that is to start at 100 — grams, that is. If it sounds simple, that's because it is. However, sometimes it's the simplest things that we overlook. With that in mind, let's break down the 'per 100 grams' method of comparison shopping!
Grocery stores put the price per 100 grams right on the price tag of the item, usually in tiny digits below the item price. Using price per 100 grams as a comparison tool is very helpful.
How much is 100 grams? There are 454 grams in a pound and 1,000 grams in a kilogram. For a more demonstrative comparison, 100 grams is a little less than four ounces, or a bit less than the meat patty on a Quarter Pounder at McDonald's.
How it works
A large container of No Name hummus at No Frills costs $6.49.
A convenient package of four small tubs of hummus (No Name) costs $5.49.
Which is cheaper? Go to the price per 100 g!
The larger container is $1.43 per 100 g, and the four-pack is $2.41 per 100 g.
Buy the larger tub and put it into small containers yourself.
Another way to price compare is by pound/kilogram — usually used for meats.
For example, this week, boneless chicken breasts are $9.99 per pound, while a whole chicken is $1.99 a pound.
That's a $8.00 per pound difference! You can save quite a bit of money by purchasing a whole chicken and slicing it into pieces. Toss the pieces in a zipper-closing bag and freeze in packages that are the right size for your family. At the per-pound prices above, you could get a whole chicken for pretty much the same as a couple of boneless breasts would cost.
(See below for deals this week on chicken.)
Comparison shopping doesn't need to add hours to your shopping schedule. It's often as easy as pulling out that calculator you already have in your phone.

Now, let's get to that shopping list!
With the information above to help you shop, here are some of the best deals this week in Kingston
Meats, dairy, and pantry goods
Cereal: Giant Tiger, Post, Various types, $2.77/ box (311 to 525 g per box)
Soup: Giant Tiger, Campbell's varieties, $0.87/each (284 ml can).
This is a stock up price!
English Muffins: Giant Tiger, Wonder, $2/6 pack
These and the cheese and eggs that are on sale would make cheap and easy breakfast sandwiches (here's a simple how-to), if made ahead and frozen. Just nuke a full breakfast sandwich from frozen for 30-45 seconds for a hot meal to pack and go.
Cheese: Food Basics, Black Diamond blocks, $4.88/400 g
Pre-shredded Black Diamond costs the same — $4.88 — but for only 320 grams. If you shred it yourself, you essentially get 80 extra grams of cheese, just by using a box shredder.
Pork Chops: Food Basics, $2.99/lb
At this price, you should definitely stock up!
Remove chops from packaging and put into zipper-sealing bags – enough for how much your family eats per meal – lay flat, remove as much air as possible, and freeze. These flat bags save a lot of space in the freezer.
Vegetable oil: No Frills, No Name, $9.99/3 L
You may want to keep a smaller bottle by the stove; dollar stores sell squirt bottles, so you can transfer some oil from the 3 L jug to the smaller bottle.
Eggs: Food Basics, $2.88/dozen
With the English muffins that are on sale (above), have a little fun with language: translate those English muffins into French toast sticks! Dipped in the on-sale fruit yogurt (below), these would make for a fun lunch for little ones.
Mayonnaise: Food Basics, Hellmann's, $5.99/890ml
Herbs and spices: Food Basics, Selection, $0.99/ package
Canned Beans (540 ml) and Tomatoes (796 ml): No Frills, Unico, $1.49 each
Whole Chicken (in-store butcher): No Frills, $1.99/lb
YouTube has some great videos on how to cut a chicken up into pieces. Each bird will give you two legs, two half-breasts, two wings, and two thighs, all for about the same cost as just two breast halves if purchased on their own.
Yogurt: Food Basics, Astro, Fruit on the bottom, $3.99/12 single-serve cups (100 g each)
It is a little cheaper to buy a larger container and add fresh fruit, but it's not always feasible and berries don't keep as long as the yogurt does.
Fresh vegetables, salad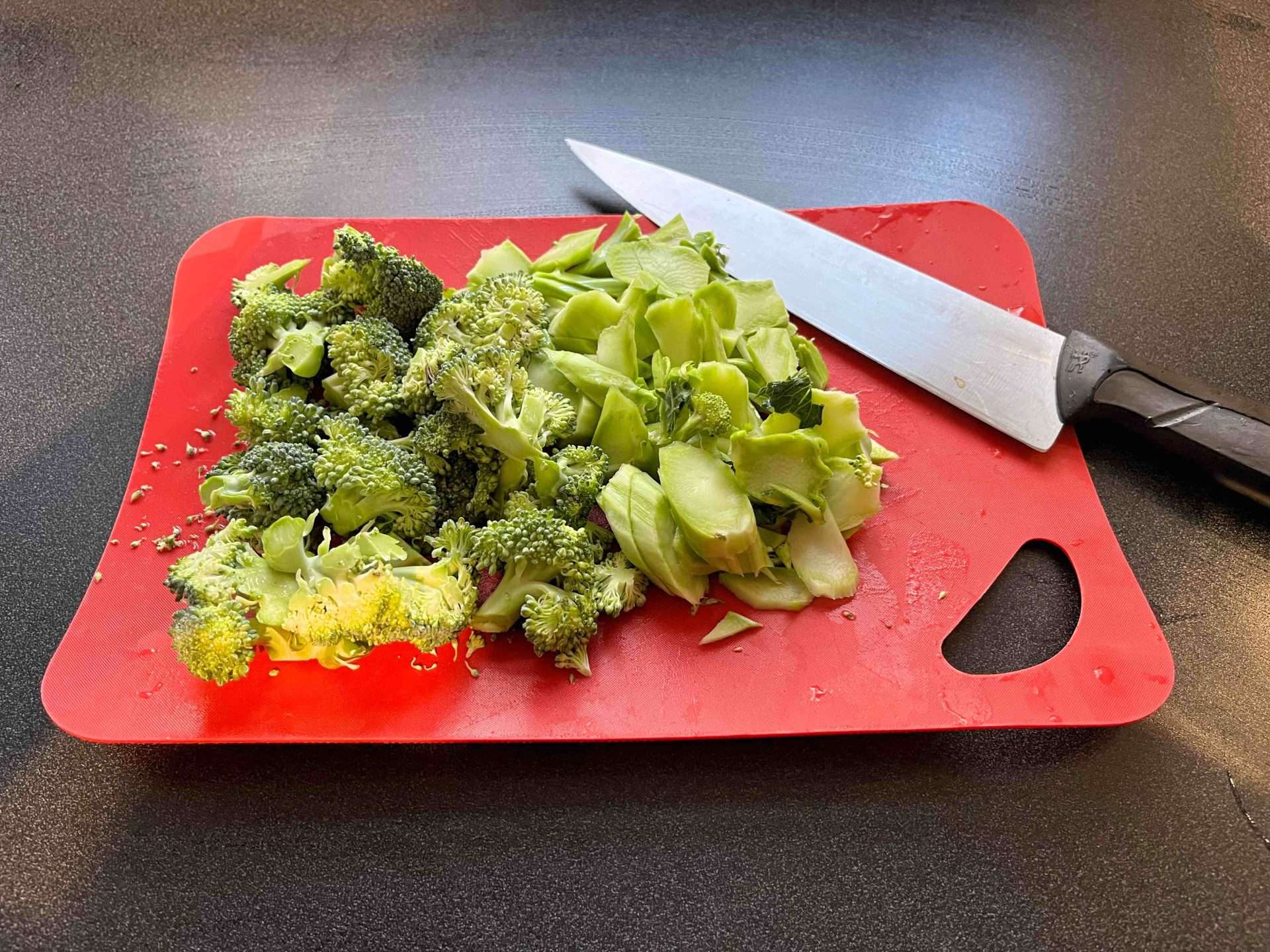 Broccoli: No Frills, $1.98/crown
Use the entire plant, even the stems. Slice off the blunt end, wash, peel with a vegetable peeler, and slice. You get twice as much broccoli as if you just used the crown, and it works well in stir-fries or omelettes.
Peppers: No Frills, No Name, $4 for 2.5 lbs
These could be turned into peppers stuffed with some rice, as well as some other ingredients that are on sale this week: black beans and tomatoes, topped with cheese.
Peppers can be used to garnish most anything, and always make me think of 'Taco Tuesdays.' My son loved anything taco flavoured, and I could sneak a lot of healthy food into him as long as it was called 'taco' something! And there are herbs and spices on sale this week, too (see above), if you'd like to make your own tacos, as well.
Romaine Lettuce: No Frills, two heads for $2.99
Caesar Salad Dressing: Giant Tiger, Kraft, Two 475 ml bottles/$6
Squash: No Frills, $0.88/lb
Squash will last weeks in the fridge.
This is not a complete list, of course, but it contains some of the best deals this week.
Happy Frugality!
– Sarah Cronk
Kingstonist is excited to introduce our new column, Fabulously Frugal, which will be published on Fridays so readers can plan for weekend shopping with the week's flyer deals in mind! Kingstonian Sarah Cronk will offer new takes on cost-saving measures and ways to stretch a buck as far as possible. Something you'd like Sarah to tackle as a subject, or areas you'd like to know more cost-saving tips about? Let us know! Email Editor-in-Chief Tori Stafford at [email protected].