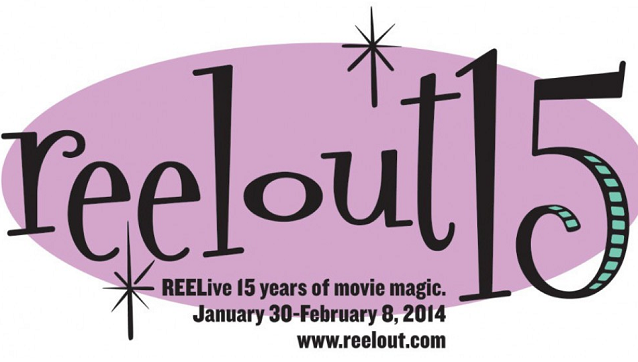 Next week marks the 15th anniversary of Kingston's Reelout Queer Film + Video Festival.  Reelout began as an offshoot of OPIRG Kingston in 1999.  Founder, Marney McDiarmid used the back room of 477, Kingston's only gay bar, to screen films to see if our city could sustain a weekend long festival of LGBT themed films.
Fifteen years later, the festival has grown to an impressive 9 day run.  With full length and short films, documentaries and films directed at youth, the festival brings in works from many corners of the world.  Films shown this year vary from drama, comedy, horror and more, and will surely appeal to everyone in the LGBT and straight communities alike.
Sir John's Public House will act as The Reelout Festival Fireside Headquarters where festival-goers can grab a pint and a bite between films and meet with others to discuss what they have seen.  Of course, every good festival also offers great parties and opportunities to mix and mingle.  All films will be shown at The Screening Room unless otherwise noted and ticket information can be found here.
Check out our guide below to find out when and where everything will be happening.
Happy 15th birthday, Reelout!
Thursday, January 30th 2014
7pm: Queer Artivism preceded by short films I Love My Skin and Gay Goth Scene
9pm: Seek preceded by short films Playing it Straight and Straight With You
Friday, January 31st 2014
7pm: Who's Afraid of Vagina Wolf? preceded by short film Whispers of Life
10pm, Renaissance: RBC Opening Gala Party featuring DJ Terry Durban, food from Pan Chancho and live performances and slideshows of Reelout's past 15 years.  Admission is included with $15 ticket to the film or $10 at the door.
Saturday, February 1st 2014
12pm: In Other Words Shorts
2pm: Queer Shorts Across Canada presented by Inside Out LGBT Film Festival
4pm: Before You Know It
7pm: Reaching For The Moon preceded by O Pacote (The Package)
9pm: Stranger By The Lake (L'Inconnu De Lac) preceded by short films Dawn and Ink Deep
11pm, The Grad Club: Reelout Rejoice! Cut a rug and mix and mingle with other festival-goers.  DJ Stiletto will be spinning tunes and proceeds will be shared with Modern Fuel.  $5 at the door.
Sunday, February 2nd 2014
12pm: Reel Peeps: Audre Lorde: The Berlin Years
2pm: Reel Peeps: Alice Walker: Beauty In Truth
4pm: Reel Peeps Shorts
7pm: I Am Divine
9pm: Will You Still Love Me Tomorrow? preceded by My Best Dress
Tuesday, February 4th 2014
3:30pm, HARS: Youth Shorts
Wednesday, February 5th 2014
7pm, Union Gallery: What's Your Sex? Shorts
Thursday, February 6th 2014
7pm: GBF preceded by Ce N'est Pas un Film de Cow-boys (It's Not a Cowboy Movie)
9:30pm: John Apple Jack preceded by Change Over Time
Friday, February 7th 2014
7pm: Laugh Out Loud Shorts
9:30pm: Getting Go: The Go Doc Project preceded by Barry's Bespoke Bakery
11:30pm: Reelout After Dark Shorts
Saturday, February 8th 2014
12pm: The New Black preceded by Where Do We Go From Here?  There will be a panel discussion after the screening.
4pm: Dear Lesbos With Love: 3 Films About Queer Women: A Parallel Revolution, You're Not My Target Audience, Boi Oh Boy
7pm: Heterosexual Jill preceded by The Break and Where we Were not Part 1: Feeling Reserved, Alexus' Story
9pm: Five Dances preceded by Men's Boutique
11pm, The Mansion: Feelout Reelout Wrap Party Celebrate another great festival in The Wine Cellar.  $10 at the door.