Guide to Buskers Rendezvous 2012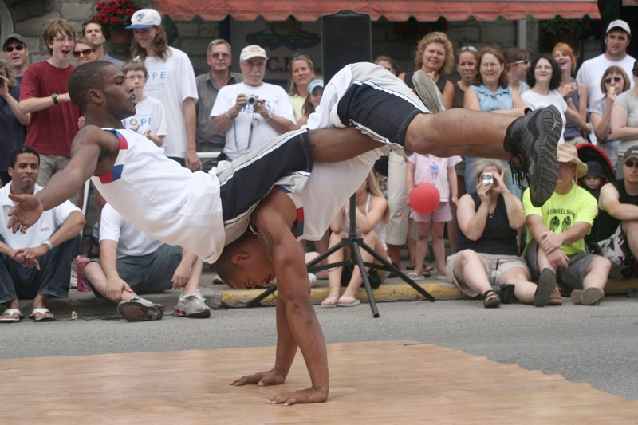 Next week is Kingston's Annual Buskers Rendezvous.  From Thursday, July 12th-Sunday, July 15th buskers from all over the world will take over our downtown streets to perform acts of all kinds including juggling, dancing, magic, live music, sidewalk art, acrobatics, fire shows and tons more.  New acts this year include Australian music sensation Juzzie Smith, Toronto plate spinner The Funny Waiter, Australia's snake charmer and sword swallower Ganja The Great and New York break dancers B-Xtreme, as well as many others.  You'll also notice lots of local talent including The Partita Trio, Frederic Lucas – a 13-year-old juggler and magician, You-Name-It Face and Body Art and Tribal Pulse Henna.  Below is a guide to let you know where the performances will be taking place.  Many of them occur simultaneously but repeatedly throughout the weekend so, although we don't know exactly who will be where and when, you'll know which areas to stick to.  There are also some fun special event additions to the fest this year including a children's play on the lawn of St. Andrew's Church and a tent run by the folks at The Rocking Horse with children's entertainment and crafts.  So get out there and check it out, and remember to bring your loonies and toonies to show these awesome entertainers your appreciation.

Princess Street Performances (between Bagot and Wellington)
Thursday, Friday and Saturday: 1pm-3pm

Ontario Street Performances & Springer Market Square
Thursday & Friday: 6pm – 11pm
Saturday: 3pm – 10pm (Ontario St.),  6pm – 10pm (Market Square)
Sunday: 11am – 6pm  (Ontario St. only)
Special Events
Busker Play
Thursday – Saturday: 11am-1pm on the lawn of St. Andrews' Church (Princess and Clergy)
This show is directed at kids and will feature clowns, jugglers, music, theatre and more!
The Rocking Horse Children's Tent
Thursday – Saturday: 11am – 3pm, Confederation Park
Look for the big white tent in Confederation Park and you'll find three full days worth of children's performers, programming, and workshops suitable for kids of all ages!

Thursday – Saturday: 1pm -3pm, Confederation Park
Bring the kids by to make their very own Jester Hat with the help of The Rocking Horse staff.
Fire Show
Saturday: 10pm, The Hub (Princess St. between Division and Barrie)
A night show featuring the best of the Buskers who are highly skilled in the art of fire performance.
Grand Finale
Sunday: 6pm, Confederation Park
This is one last opportunity to see a sampling of some of the festival's talent.
Thanks to jukerr for today's pic.