Six Questions for Gordon Robinson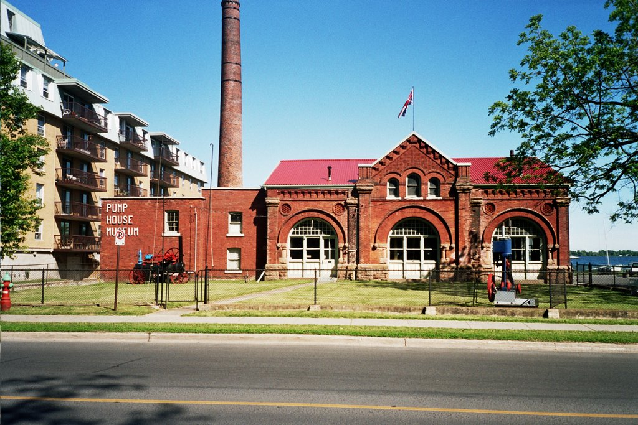 Located in one of Canada's oldest original water works – dating back to 1850 – the Pump House Steam Museum is one of only six preserved water pumping stations of its kind remaining in North America.  Original pumps are animated, allowing visitors to see exactly how they worked to deliver water to Kingstonians.  Visitors can choose from guided or self-guided tours to learn how steam power was an essential part of the industrial development of Canada.
In addition to the pumps, the museum also houses special exhibits and an incredible collection of model trains.  Most exhibits found at The Pump House Museum are interactive, inviting visitors of all ages to learn through experience.
Our fourth interview in our hidden gem series is with Pump House Curator Gordon Robinson.
1. Tell us about yourself, your background, your education and how and when you came to be the Curator of The Pump House Steam Museum.
I am originally from just outside Durham City in the UK and moved over almost ten years ago to the Kingston area. My back ground is in history, archaeology and heritage and coming from a region in the UK immersed in heritage working at museums came as a natural fit for me.
I moved to Canada in 2004 to be with my fiancée Erica, now my wife, and the best friend I could ever hope for. We settled in the Kingston area and were drawn to this City because of its beauty, rich heritage and quality of living.
Jumping off the plane I began walking the streets of this new City exploring the waterfront, museums and attractions. At the same time I was looking for work and my feet carried me into St. Lawrence College Job Connect where I met a wonderful lady Janet Ashford who helped within a week to secure me my first job at the Marine Museum of the Great Lakes. I worked there for two years in every aspect of the operation and quickly rose to the position of Museum Manager. Part of the portfolio of the Marine Museum was to manage the City owned Pump House Steam Museum which it had done since 1992. One of my main roles during those two years was to oversee the operations at the Pump House and investigate ways that the museum could be improved. For two years I had the opportunity to work with some great volunteers from a variety of different backgrounds, some who are still volunteering at the Museum today. In 2006 the Marine Museum passed the management of the Pump House back to the City for the first time and now with a museum to run themselves the City approached me and hired me as Curator of the Pump House Steam Museum.
It was an exciting and challenging time my first year as Curator. There was almost no funding to be had at this point from the City and as such you had to be inventive to make it work. One of the first jobs I did was to dry wall my own office that was previously a storage room.
Getting the Museum up and running was a huge endeavour as during my time with the City I was also Curator of the MacLachlan Woodworking Museum, Civic Collections Curator and Curator of the restoration of the Sir John A. Locomotive. Looking back and seeing the creation of Cultural Services and the adoption of the Cultural Plan by Council, things have changed a great deal. Being part of a Cultural Department and having the support of Council with good museum investment has been crucial.
Throughout the years I have championed the growth of the Museum along with many others and I am so pleased it has developed to be the vibrant and popular heritage community resource it is today.
2. Who is The Pump House Steam Museum's primary clientele – Kingstonians, tourists, schools? How has this changed over the years? In terms of numbers, how did the museum do this year? Better or worse than expected? How do you plan on building on that?
Since 2006 when the City took over the running of the Pump House we are happy to report that the numbers of visitors to the Museum has been steadily increasing. In 2012 we had 5000 people through the door on a purely seasonal schedule. This year we are already doing exceptionally well and will probably have between 6000-8000 visitors. The main clientele to the Museum are families. We felt since taking the reins of the Museum that we needed a broader audience than just steam engine enthusiasts. As the Museum is a natural place for interaction and the ability to touch and get involved with the equipment is in place we felt that we wanted to make it a fun and educational place for family learning. As a City of Kingston Museum we are also trying to broaden our scope of audience to include a much wider demographic across the Kingston community. We do offer an extensive offering of educational programs for schools, daycares, summer camps, seniors groups and special interest groups. To broaden our offerings to cater for the Kingston community we are endeavouring to me more than just a museum. The Museum developed one of its exhibit rooms, the Engineerium, into a temporary exhibit space and site rental space so that we can offer different types of exhibitions and use of the museum by the community. We hope in the next few years to be welcoming 10,000 people through the doors of the museum each year.
3. How is your museum funded? Is government funding enough to keep the facility alive and well or are grants, donations and endowments a major factor?
The Museum is funded primarily from the municipality of Kingston. We do apply for and receive a number of federal and provincial grants that help to supplement the museum operation, development and programs. We have been very fortunate in municipal funding over the last few years which has allowed to the museum to grow, update and maintain the heritage structure and broaden our offerings to the public. For that we are very grateful.
4. If money were no object, how would you use it to make your facility stand out as a premiere tourist destination in Kingston?
Actually the funding we have been receiving we have invested very carefully in the right areas to allow the museum to develop and grow into a premier tourist destination for Kingston. We started with maintaining and upgrading the heritage structure of the site first and then looked at functionality. The building up until 2011 had no heating or cooling. So we worked very hard to design and install a system that was sympathetic to the building but allowed us to create a climate controlled environment. This then allowed us to open for a much longer season April –December to better service the need of the community. The windows in the museum, most original, were decaying and in need of repair – so we restored them and replaced newer windows added in the 1960's with replica of the original windows. We needed to create a large exhibit space to constantly accommodate 2-3 new exhibits a year – so we renovated the Engineerium exhibit space and we now have rotating exhibits at the museum each year. There are many more improvements I could mention but suffice it to say we have been investing the funding we have very wisely. We have a further improvement plan that we will implement over the next 3-4 years and we hope at its completion we should have developed the museum enough to actualize its potential and be a premiere tourist destination.
5. Some museums are static in that they display artifacts and other historical objects that don't necessarily change over time – what steps are taken to keep things fresh and keep patrons coming?
Our goal at the Museum is that everything be as interactive as possible. We want kids and adults alike to learn by doing. To that end we have some of the original steam engines animated; we have model engines on push buttons, model electric trains that you can see in action, a discovery centre, newly developed for 2013-14 that provides interaction for families based around the themes of water and technology. Most of our educational programs are all interactive as well as many of our temporary exhibitions.
To keep patrons coming we endeavour to always have something new and also to listen to our community and try and provide what they are looking for.
6. What's the most popular exhibit or event that The Pump House Steam Museum offers? Why do you think that's the case? Are there any new initiatives, changes or upcoming exhibits that you are particularly looking forward to?
People keep coming to the museum to see the original steam driven water pumps, one of them animated, in action. It fascinates them to see the original Victorian era technology preserved and marvel at its size and technological sophistication for its age.
One of our traveling exhibits currently on display until September from the Museum of Nature, Canada's Waterscapes, has been particularly interesting for our visitors. It speaks to ecology and water management across Canada's water systems and is largely interactive. People love that we can bring in exhibits of this scope and national significance.
I am really looking forward to 2 new exhibits that we are developing for 2013 and 2014. The First People of the Pump House that opens September 17th celebrates our 40 years as a museum through the eyes of the unique individuals who helped make it what it is today. We have made a documentary on the Museum, have interactive tablet based stations and tell a variety of inspirational and humorous stories.
In May 2014 we open an exhibit called Fire and Water that looks at all aspects of the Fire service with a focus on Kingston's fire service and its historic symbiotic relationship with the Pump House. Yet again it will have many things for families to see and interact with; it should be a lot of fun.
In general I am excited about the next few years here at the Museum at seeing its continued development and being very much at the heart of that process. Exciting times.
The Pump House Steam Museum's hours are:
April 2- May 17
Tues-Fri: 12pm-4pm; Sat. 10am-5pm
May 18-September 2
Tues-Sun: 10am-5pm
September 3-December 1
Tues-Fri 12pm-4pm; Sat. 10am-5pm
You can find them online on Facebook and Twitter.