Six Questions for Chris Whyman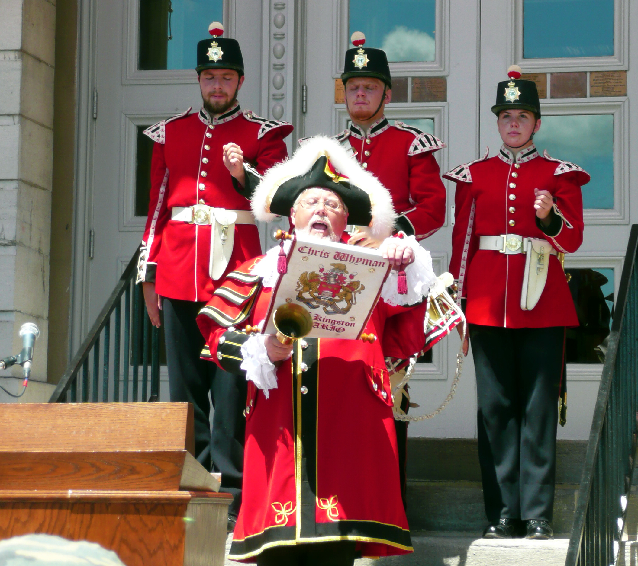 Chris Whyman has been the voice of Kingston for 28 years, representing our town in competitions all over the world.  Chris is Kingston's Town Crier and Goodwill Ambassador and has been the face and voice of numerous Kingston events over his nearly three decades of crying.  He has been there to declare the beginning of many events from conferences and private functions to city-wide celebrations such as Canada Day and FebFest.  As well as competing in, and winning many competitions, Chris is the Manager of Visitor Services for Tourism Kingston.  In August of 2013, Kingston will be hosting The World Invitational Town Crier Tournament.  We had an opportunity to speak with Chris to learn more about what he does and what this competition will entail.
1. You began town crying in 1984 when Kingston held a competition to find a town crier in celebration of Ontario's bicentennial.  What inspired you to compete for the job and what has kept you going over the last 28 years?
I really didn't jump at the chance, in fact I was sitting with a friend the night before the competition and he basically talked me into it saying "what have you got to lose …it's only for one year!!" well that was 28 years ago and its seems like just yesterday when it all began.
There have been many momentous occasions and some really interesting people I have been given the opportunity to meet. From the brides and grooms I introduced, to their children who are now all grown up, businesses and conferences I have opened and birthdays I have proclaimed from literally the "Birth" day to 101 years old, the many charitable organizations and the people who volunteer for them,  the many actors and sport celebrities, heads of states including the Queen and Prince Phillip, Diana and Charles, Princess Anne, and of course the great people of Kingston I have met and who have supported me, have made this a very rewarding position within the community.
2. You were crowned world champion crier in 2006 and 2010 and have competed in many other provincial, national and world-wide events as well.  I recall reading something about some upset Brits when you were the first Canadian to win at the Shepton Mallet Agricultural Festival in 1987.  What is a town crying competition like? What is your most memorable experience competing?
There are so many types of competitions and there is always a core group of criers in attendance, usually the most active ones in their communities. But the judging is based on the same criteria: sustained volume , diction, timing, inflection, poise, bearing, confidence and content. Criers have gotten so good that word count has determined a winner by 1 point. In England for example, there were many seasoned criers some of which had been crying for decades, I was the new kid on the block (in fact at 23 I was the world's youngest crier for a few years until some new young whipper snappers came along LOL).  In the days of old I would be very nervous and refrain from getting too vocal leading up to those events which I found, as I grew more confident, was actually hindering my  craft. The main reason for my being at world events was to promote with pride this great community of Kingston so I was always trying to be in the forefront of activities which would gain Media attention. I thought that winning was the way.  As I soon found out, I could get lots of publicity for Kingston by attending and being vocal at promotional tours and events held in and around the competitions. I soon learned to relax and go with the flow and that helped me in winning the worlds in 2006. I found that if I relaxed and didn't get uptight my voice was much more dependable.
There are a quite few memorable experiences. Perhaps my first Provincial win in Ottawa in 1984, the winning of the North American in 1985 and placing 3rd in the world in 1991 rank up there and of course the World wins in 2006 and 2010.
3. Your involvement as town crier, your position with Tourism Kingston, and your travels associated with town crying have exposed you to a wide range of events.  What are your favourite Kingston celebrations and are there any events you would like to see Kingston try out in the future?
Kingston is blessed with a plethora of fantastic festivals and events, most organized by the Downtown Kingston Business Improvement Association and others by the many great community associations and charities, and the City of Kingston. To say which is my favourite is hard, but I think the Homegrown Music Festival and Limestone City Blues festival are at the top of my list as one is  a true  testament to the local talented musicians that call Kingston their home and the fact that the Blues fest is just that a true "BLUES" fest that is affordable for all. I attend almost all festivals, time permitting.
4. Tell us about your uniform.  You must have more than one.  Are they custom made?  Where does one acquire such attire and how does it fare during the blustery days of FebFest and conversely during the dog days of summer?
My first uniform was a rental from Audrey's Costume house which was the last one on the rack (it was a bicentennial celebration going on) It was actually a modified Henry the VIII Costume. Audrey's has been very helpful with upkeep and accessories for all my uniforms over the years. My mother made the next two and when her hands no longer could work on the heavy coats because of her MS I had to have the newest ones locally tailored. One is 20 years old, made of red doeskin (wool) and is the same material you see on the Fort Henry Guard.  The other is 15 years old, made exactly the same but in a lighter serge material that the RMC cadets wear. I would say I have a pretty good metabolism as I can wear the lighter one in both winter and summer. The older wool one, when wet, tripled in weight and then became very heavy to walk around in – it even made it difficult to lift my arms to ring the bell!
5. Do you take any special measures to care for your voice?  What do you do to prepare and safeguard it?  Have you had any instances where you have been unable to use it?
I used to be on pins and needles when hearing a cough from around me and would chew plenty of gum and drink lots of water in the beginning, but over the years I have just learned to take it easy and rest the chords and do a nice vocal warm-up prior to an event. Its really funny when I am on my motorcycle on my way to an event when I do the bubbling warm-up as I think people are wondering if I am making motorcycle sounds!!
It's only been once that I lost my voice and that was after a big contest and it was pretty worn out from trying to go that extra little bit!
6. In July and August 2013, Kingston will be hosting the World Invitational Town Crier Tournament, drawing talent and spectators from around the globe.  What sorts of competitions can Kingstonians look forward to?  How are you preparing to defend your title?
The people of Kingston and those visitors will get a chance to meet many colourful and gregarious Ambassadors from other countries, from Belgium, Holland, Australia, New Zealand,  England USA, and more – all who have chosen this ancient and honourable position. They will witness may different styles of criers, all who create a distinct and interesting approach to their delivery.
Unfortunately I can't compete as I am the host of this international event.