Local artist captures Kingston's urban landscape on paper cups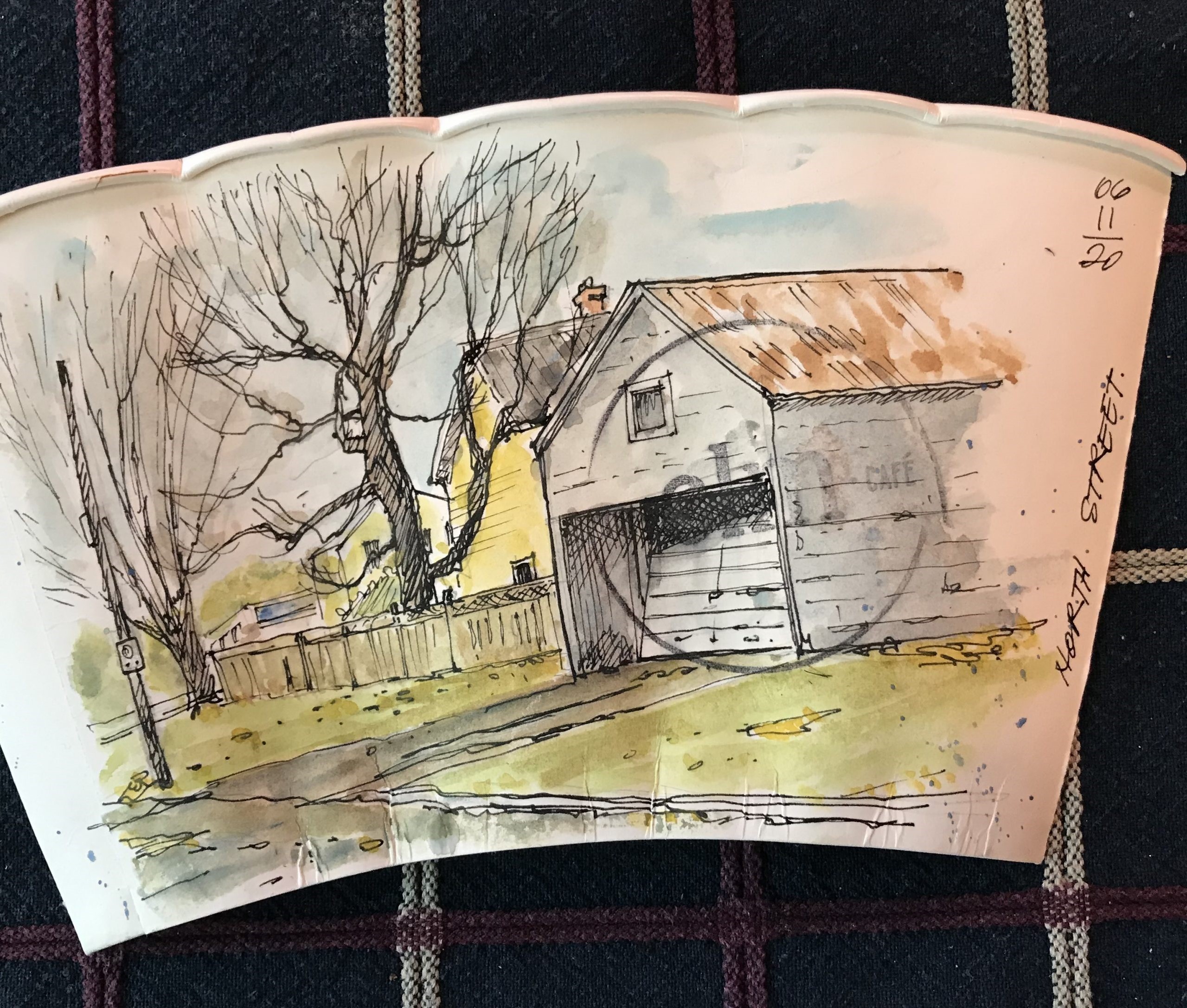 Kingston-based urban sketcher and painter, John Wright, is making cup-cycling paintings of Kingston's urban landscape. These paintings consist of sketches and art on the paper cups. Ten years ago, he discovered Urban Sketchers on the internet and it captured his imagination.
"I had never really painted, but bought a watercolour kit, started a blog, and dove in. However, it was a couple of years later on a month-long trip to Spain walking the Camino de Santiago de Compostela (The Way of St. James) when I was doing three to four sketches every day that came together for me. Afterwards, I published a book of those sketches entitled Drawn Along The Way," said Wright
Professionally, Wright is a registered landscape architect and urban designer who was previously a partner in an Ottawa based firm for most of his career. About the cup-cycling paintings, John shared an interesting story "Last fall I started sketching in the Inner Harbour/Skeleton Park neighborhood, as I enjoyed the stories the streetscape and buildings told. Somehow, I made a link to The Elm Café as it is a sort of social hub for the Inner Harbour and decided to use their paper cups as a sort of symbol of the neighborhood. I joke that the paper is expensive, but it comes with a really good coffee," said Wright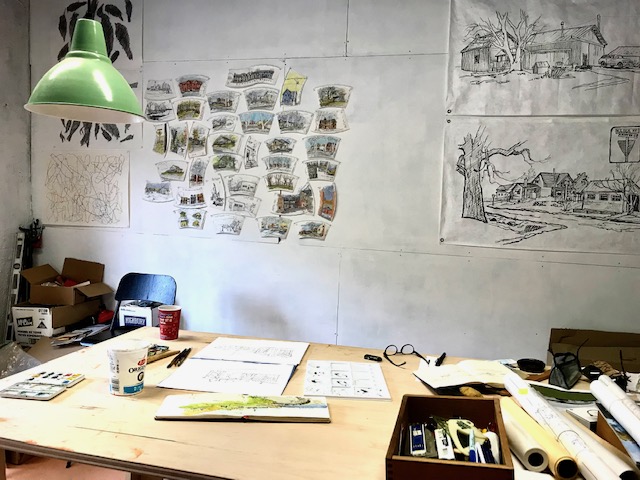 So far, Wright has made up to 50 sketches of different places in Kingston. Wright and his partner, Diane Black, who is a ceramic sculptor and painter, put together a show of sketches from their travels at The Elm Café a couple of years ago, and last summer Wright exhibited 24 large drawings done as banners, mounted on fences along Main Street of Marysville on Wolfe Island. Currently, as part of the Skeleton Park Arts Festival's Next Door, he has three wood carvings of trees displayed on Bagot Street.
Although his high school did not offer art at the time he was there, Wright has always loved to draw and paint, he expressed. Due to his passion for art, he was able to produce a surprisingly large collection both sketches and paintings that helped him maintain a portfolio, which later on helped him get admission to the University of Toronto to study landscape architecture.
As a landscape architect, his work mostly included designing public space like parks, urban squares, streetscapes, and campuses. Right now, Wright is only undertaking selective projects that include his old clients such as the University of Ottawa's new Health Sciences Building.
"As an urban designer, I have always tried to understand the essence of a place and enhance that as an experience – this is what I aim for with my sketches. That, and a sense of energy, which is why I like to work on site, often standing not sitting to keep it quick and loose," said Wright.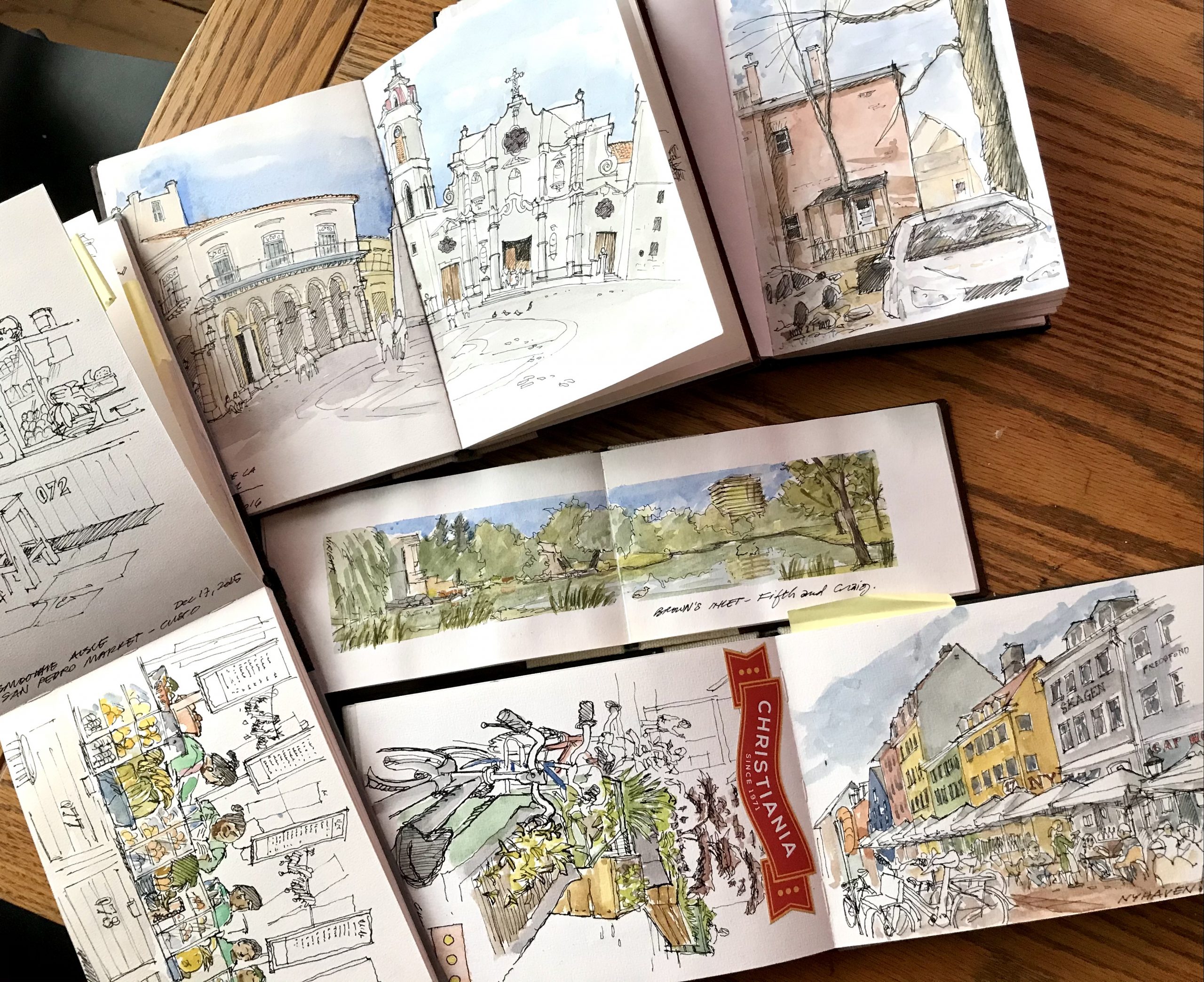 Next week, Wright will be installing seven paintings at Ahoy Rentals on the Waterfront Trail that are narrated with a poem about walking along the shoreline. This work is specific to Kingston, but speaks to the benefits of exploring urban nature as a very common therapeutic activity through the movement and social restrictions of this last year.
Wright also shared that he is building his resume as a public artist and has put together several exhibits, which are themed around places – cultural landscapes and nature in the city, all of which are easily traced to his career as an urban designer.
"Increasingly, I'm thinking of my work as 'visual essays' and seek to fit the media to the subject," he said. "With the pandemic, I haven't had much direct reaction to the cup-cycling paintings, however, I've received many positive comments on Instagram, and people have shared postings with their neighbors. I've also had lots of commission requests, on Elm cups — particularly at Christmas."
To find out more about Wright and his work, check out his blog, and follow him on Instagram for more cup-cycling and images of local spaces.