Pop Up Art Show and Sale at Glocca Morra's Big Red Barn
On Saturday, Aug. 22, 2020, local artists will be safely gathering at Glocca Morra Farms & Studio's Big Red Barn on Highway 15 for a Pop Up art show and sale.
Nine artists and makers will be participating, and every one of them is excited by the opportunity to reconnect with clients and customers.
"Events like this are so important right now to give artists and makers the opportunity to reconnect with their clients and to get their creations in front of a new audience," said Casey Boyce of Shiva's Delight. "It will be incredible to see everyone in person and have a chance to genuinely connect. We've all missed the social aspect of shows, meeting new people, seeing old friends and connecting with other humans face to face. It has been a very rough season for artists and makers whose income depends on vendor events, and so many of us have felt the impact."
One of the hosts of the event, Rhonda Evans, agreed with Boyce and explained that the proper health and safety precautions will be in place on Saturday.
"A Pop-Up show at the farm before the end of summer, or a second wave happens, seemed like a good idea — to gather, at a distance!" Evans said. "We are taking precautions: a COVID screening check-in for all our guests for traceability will be set up, and we will be counting numbers to stay within provincial guidelines. Masks will be required. Alcohol and a hand wash station will be provided for all to use."
"The farm has a large field and a big barn," added Michelle Reid, participant and co-host. "Artists will be set up in both spaces to allow for social distancing. Check-in will control the number of people on site, provide sanitizer, and record postal codes."
The show will take place Saturday from 10 a.m. to 5 p.m. at the Big Red Barn, 1624 Highway 15, just south of the Highway 15 exit of Highway 401.
"This show is so important to us right now because all of our in-person summer art shows and markets were cancelled this year," explained Adele Webster of Adele Webster Art. "We [artists] rely on those shows for revenue and growing our art following during the summer months."
"Also, almost all the artists at this Saturday's show are tenants of the Tett Centre," Webster continued. "As the Tett Centre's landlord is the City of Kingston, we have not, as of yet, qualified for rent relief. So coming together and putting on this art show at Rhonda's is going to be such a wonderful day with so many talented artists as well as live music, but also it could help us recover a little from a very tough summer."
Chaka Chakozi, a Zimbabwe stone sculptor whose studio is located at the Glocca Morra Farm & Studio, has invited his friends the Jerome Tucker Band to entertain attendees and play outside for the afternoon.
"We need a reprieve from the news, the loneliness and the sadness," added Linda Wolfram Fraser of The Garden Studio, another artist participating on Saturday. "When COVID hit, I couldn't stop watching the news in disbelief and creating my art seemed so meaningless and unimportant in the whole scheme of things. But as I watched the world react and cope, I realized art was helping so many get through the hard times. Art and music are bringing us back together, it's bringing back joy and hope."
Who will be participating in this pop-up event?
Chaka Chakozi — Zimbabwe Stone Sculptor
"I am a Zimbabwean-Canadian stone sculptor living, working, and raising a family in Kingston," Chakozi shared with Kingstonist. "I work with volcanic rock from Zimbabwe, where I started sculpting as a teenager. Working with this stone here in Canada, where I have lived for the past 18 years, I have become increasingly interested in the stone itself – in the story it tells about geological history and in the relationship that I have forged with it over my years living between two continents. My recent work is inspired by the beauty and simplicity of the natural rock formations that are unique to Zimbabwe's landscape."
Chakozi's studio is located at Glocca Morra Farms, so art enthusiasts can see where he works, as well as some works-in-progress. He will also have an outdoor exhibit of stone sculptures, which are suitable for outdoor display year-round.
Lisa Morrissey — Dragonfly Handmade
"My work, using fallen and reclaimed wood, is a little like a mosaic, or jigsaw puzzle with very natural pieces," Morrissey said about her art. "All [pieces] have a three-dimensional quality, thanks to the unusual shapes that appear when I slice a branch a certain way."
"Mother Nature creates the most stunning colours for artwork and, apart from a final clear coat, no addition of paint is usually needed to create an intriguing piece," Morrissey continued. "My art is sustainable, environmentally friendly and complements any decor, from rustic cottages to a modern home. Wood instantly brings a natural warmth and richness to any space. My use of fallen and reclaimed wood is not only because it's an incredible, natural medium to work with that is always full of surprises, but also lies in my responsibility towards the environment. 'Protect. Reuse. Enhance'"
Morrissey suggests that many of us may be looking to spruce up the spaces we've created for staying productive at home, and an art show of this style not only provides a chance to purchase new art, but to also have an experience, and a chance to connect with local makers and pieces that affect us on an emotional level.
Rhonda Evans — Glocca Morra Farms & Studio
"I am excited that we are able to have a variety of artists with their work on display this weekend at our Big Red Barn, here at Glocca Morra Farms & Studio," Evans told Kingstonist. "All of the artists that will be here are good friends, several of whom work here at the farms studio. We have supported each other over the past months, and are full-time artists that make their living working in their craft. This has been extremely hard through this pandemic, as many artists have not qualified for COVID Relief, Rent Relief, or any other subsidy that has been made available to other businesses."
Evans said she doesn't focus on any one medium for her work. She will have many different pieces and styles of art on display at the barn:
"I do a lot with acrylic pouring medium, Liquid Glass, made here in Kingston by Tri-Art. Supporting local is important to me. I will display a series of new poppies, as well as others."
"Glass on Glass is something I used to do, but never had time for, but during the COVID-19 pandemic I was able to go back and rediscover this medium. That's a good thing, and I will have many new pieces on display."
"My alcohol ink paintings and illustrations have been used to make face masks, aprons, pillows, bags etc. I am excited to share these."
"Lastly, I will have my series of Makers Kits available, from Fairy Gardens to Fibre Arts."
Linda Wolfram Fraser — Pottery, Jewelry, Garden Art
"I play with mud, literally," explains Fraser. "I love to take a piece of clay and shape and mold it into a functional or decorative piece of art that could possibly be on this earth for centuries. What a thought! The options are limitless when it comes to technique, and I strive to learn and grow with every new piece I create."
"I also create garden art," Fraser continued. "I had my Gran's cracked tea pot and couldn't use it. But I couldn't get rid of it; what to do? I put it in the garden and it brought me such joy I started creating garden sculptures out of vintage china. Recycle, reuse and reduce… all important to me, and now I incorporate it into my art."
Debbie Lyall — Lyall Art and Design
Debbie Lyall founded an original Fiber Art Studio where she enjoys hand-crafting original artworks in her signature vintage style. She combines colour and texture in textiles and in her original fiber art pieces.
"Art is our voice, where we live and who we are," Lyall said. "As a creative person I see my life as abundant! I'm always hoping my art touches people. It's very fulfilling for me and the highest compliment for sure."
Lise Garner — Fiber Artist, Spinner and Weaver
Lise Garner has been creating cloth and fibre arts for over 30 years. After 23 years as a Professor in Textile Design at St. Lawrence College, and many years of paint, print, and dye work, her work has evolved into soft-yet-edgy fibre compositions that reflect on the world around us.
"I will be sharing a variety of new work, some great sale pieces and studio art from my collections with the attendees at our Pop Up," shared Garner. "I am a weaver, stitcher, and dye/paint/print artist. The work I share is diverse and there is likely something on my display table to interest young and older, fine art-focused, and 'just for the fun' buyers. Framed and improvisational art, woven towels and rugs, small and large pieces."
Michelle Reid — Michelle Reid Art
"I'm a self-taught oil painter based in Kingston, Ontario, Canada," Reid explains. "My work is known for being very colourful with an emphasis on light and shadow, like the way the sun wraps around a tree trunk to bring it to life with an intensity that makes you search for your sunglasses!"
Adele Webster — Adele Webster Art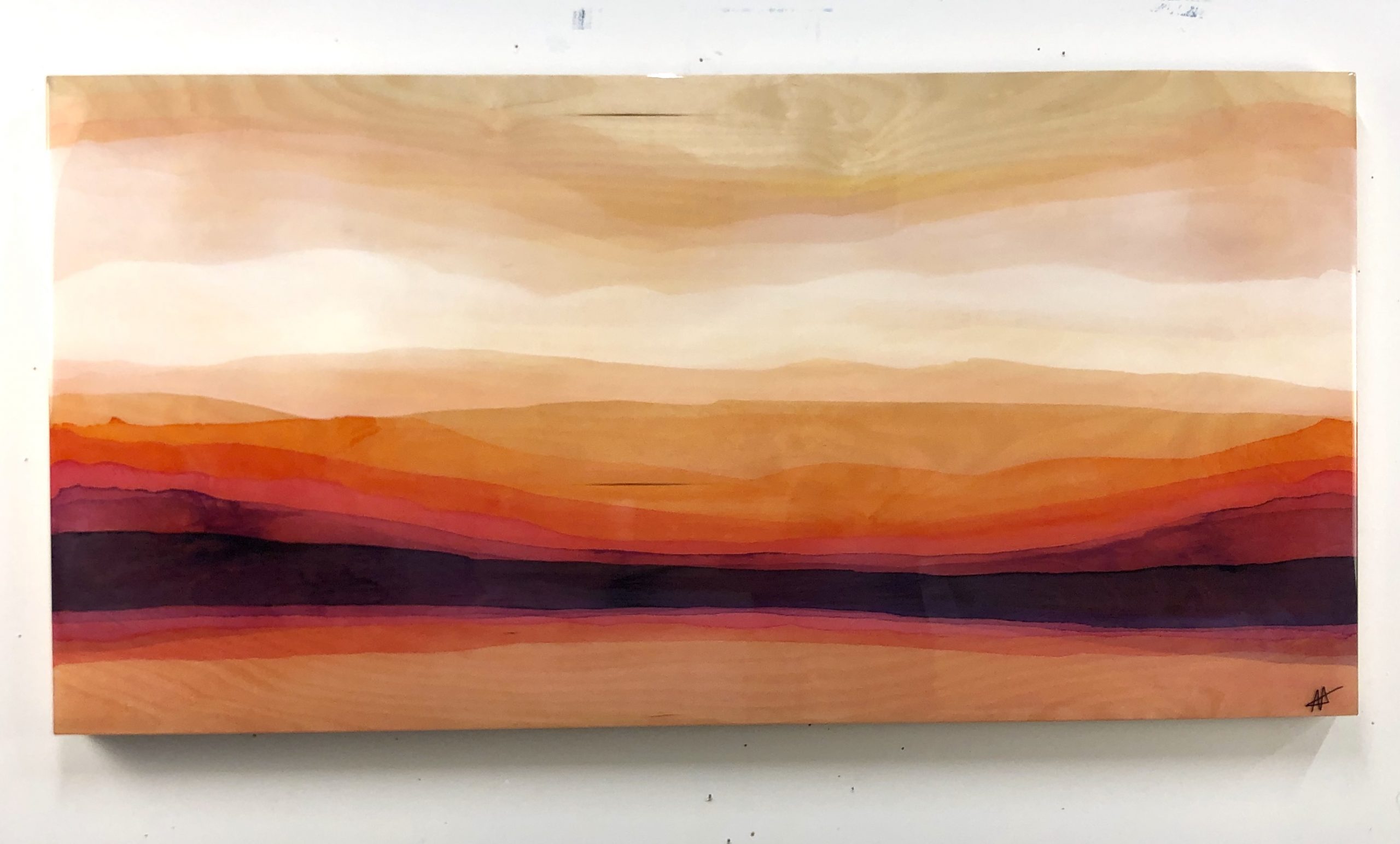 "My paintings capture the peace and calm of looking out over distant horizons," Webster said of her art. "I use vivid and vibrant colours and balance them with calm landscapes while working in acrylics with resin. My inspiration comes from a balance between understanding the medium, pure joy of colour use, and Mother Nature's incredible palette."
Casey Boyce — Shiva's Delight
"Many people are feeling online fatigue, which has affected the online artisan shows greatly as people are longing to get out into the world again," Boyce explained. "I was thrilled when Rhonda invited Shiva's Delight to take part, and am thrilled to to be spending the day in such incredible company."
"I will have all of my skincare on display and will have some limited edition summer products that I am very excited to show off to the world," she continued. "All of my skincare is handcrafted in small batches here in Kingston and it is vegan and cruelty free certified by the Leaping Bunny Organization. It is also 100 per cent natural and is free of all synthetic chemical dyes, fragrances and additives. I am so excited about Saturday and will be in the workshop all week making wonderful things for the show!" 
Visit the Big Red Barn Pop Up Art Show and Sale event on Facebook for the most up to date information: https://www.facebook.com/events/987033188410824/.