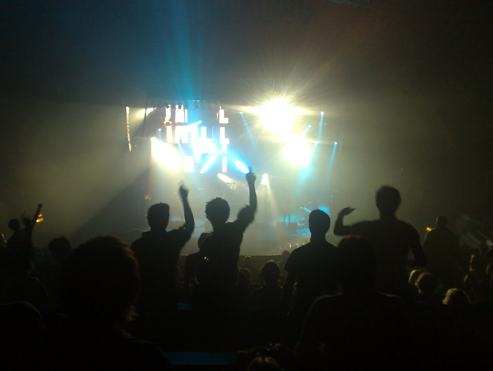 There is some really great music going on in this town. I've been reluctant to say that too often because I am a musician in Kingston and wouldn't want to seem biased. But it just has to be said. The Kingston music scene is absolutely hopping and I want to make sure that you get out to hear as much of this great music as possible. And what better time than summer time? Many of the bars in town have live music on a regular basis. All of which is worth a listen. Bars that come to mind as being big into music would be The Merchant, The Toucan, The Grad Club, My Bar, Raxx, The Nog, the RCHA and of course Stages and The Alehouse who mostly have larger out-of-town acts.
But bars aren't the only place to catch great music. There are lots of other venues in Kingston. The Wellington Street Theatre has concerts, there is the Grant Hall Series, the Kingston Jazz Society hosts concerts at many venues around town and the Queen's School of Music offers a ton of different concerts during the school year. Another venue that pops up in the summer is Confederation Basin. It has been rare in the past couple of weeks that I have walked past that little tent across from City Hall without seeing a band in there. In fact, tomorrow from 12:30-1:30 there will be a concert featuring Lynne Hanson who is releasing a new CD. She will be joined by Jenica Rayne, Patty Kenny and myself (I play the violin).
Yes I know, a shameless plug! I'm sorry. It's just that in a town so full of music, it can be hard to be heard, every artist needs to get out there and get their word in wherever possible. So I want to help. Musicians! Let me know what you're up to! If you send me info on your shows I can broadcast them here on Kingstonist. It could look something like this:
Danielle Lennon, Brian Flynn and Andy Love play the RCHA on Friday, June 27th from 8pm-midnight. $3 at the door. There are promises of great fiddle music and rockin' tunes that will keep you on the dance floor all night!
Oops, sorry that was another plug wasn't it?
Musicians, send me your stuff and I'll plug someone other than myself…Everyone else, go check out a show this week!