Best Fish and Chips in Kingston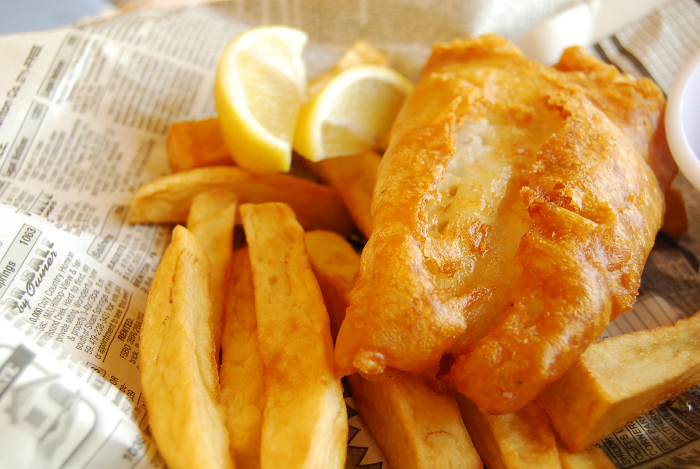 I never liked fish growing up. My mom could convince me to eat the odd tuna sandwich and shell fish was OK (probably mostly because of the melted butter that came alongside it!) but other fish was out. Even the few times I managed to catch a fish, I didn't want to eat it. I hated the smell, the taste, the look of it. It wasn't until my twenties that I finally decided to give some different types of fish a chance. I quickly learned that tilapia was an easy enough fish to like, if you seasoned it enough, and even salmon was OK in the right circumstances. Then I tried fish and chips for the first time and discovered the joys of a well-cooked piece of white fish dipped in tartar sauce.
Since the discovery, I've tried fish and chips at a few different places. Obviously it's not the kind of food that you can eat on a regular basis if you have any desire to maintain a healthy heart and body, but it sure is a great treat (in fact, it was my go-to after I completed my first triathlon). I recently tried the fish and chips at a restaurant north of Napanee, which shall remain nameless, and the terribleness of that meal got me thinking about the best fish and chips I've ever had. It was a tricky thing to figure out because, it occurred to me, we have some really excellent choices for good battered fish in Kingston! I do have my favourite but I'll keep it to myself for now. What I want to know is:
Which restaurant makes the best fish and chips in Kingston?
The Pilot House (31%, 290 Votes)
Captain George's Fish and Chips (20%, 187 Votes)
Division Fish and Chips (12%, 110 Votes)
Dianne's Fish Shack and Smokehouse (10%, 98 Votes)
The Rose and Crown (9%, 82 Votes)
Fran's Fish and Chips (7%, 62 Votes)
The Toucan (6%, 56 Votes)
The Iron Duke (4%, 34 Votes)
The Loyal Oarsman (2%, 21 Votes)
The Kingston Brewing Company (0%, 4 Votes)
The Brass (0%, 3 Votes)
The Mansion (0%, 2 Votes)
Total Voters: 949
Loading ...
What makes the perfect fish and chips in your mind? The type of fish? The batter? For me and my fave, the homemade tartar sauce is a key element. There's also the restaurant itself to consider. Are you a traditionalist who likes your fish wrapped in newsprint and eaten outdoors, maybe by the water? Or maybe you prefer a more elegant plating and a nice glass of wine to go along. Thankfully, we have many options for both in ygk. Speaking of which, did we miss a local restaurant that is making your favourite fish and chips? Give them a shout out in the comments below. In the meantime, it's been a while so I think I'm due for dinner out….you know, for research.
Credit to LearningLark for the yummy-looking photo.